The Rembrandt House Museum is not only a museum with a rich history, it is also a unique venue in the heart of Amsterdam for exclusive events, dinners, guided tours and receptions. Set out below are the various possibilities the museum has to offer.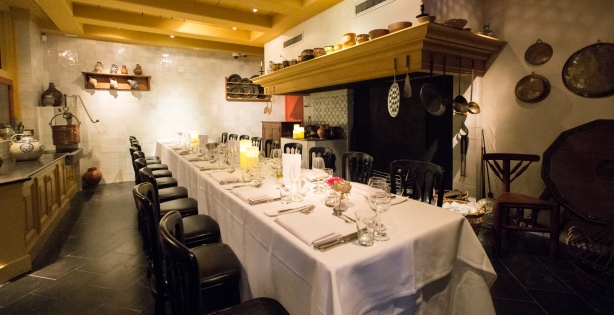 DINE IN REMBRANDT'S KITCHEN
Rembrandt's old kitchen is one of the finest spaces in the Rembrandt House and a wonderful setting for an intimate dinner for up to eighteen guests. Experience the seventeenth-century atmosphere and the unique glimpse of Rembrandt's domestic life, as you enjoy an exclusive guided tour and a superb dinner.
Program
6.30 pm                 | Reception with a glass of champagne
7.00-8.00 pm         | Exclusive guided tour of the museum
8.00-10.00 pm | Three-course dinner including selected wines and coffee/tea
10.00 pm               | At the end of the evening you will receive an impression of an etching made in Rembrandt's printmaking studio
Capacity up to 18 people | Price from 400 euros each (excl. VAT)
CONTACT
For more information about the various venue hire options, our facilities and rates, please contact our Marketing & Sales Department. A prior visit to the venue is, of course, possible by appointment only, tel. +31 (0)20-5200400 or by email to marketing@rembrandthuis.nl.