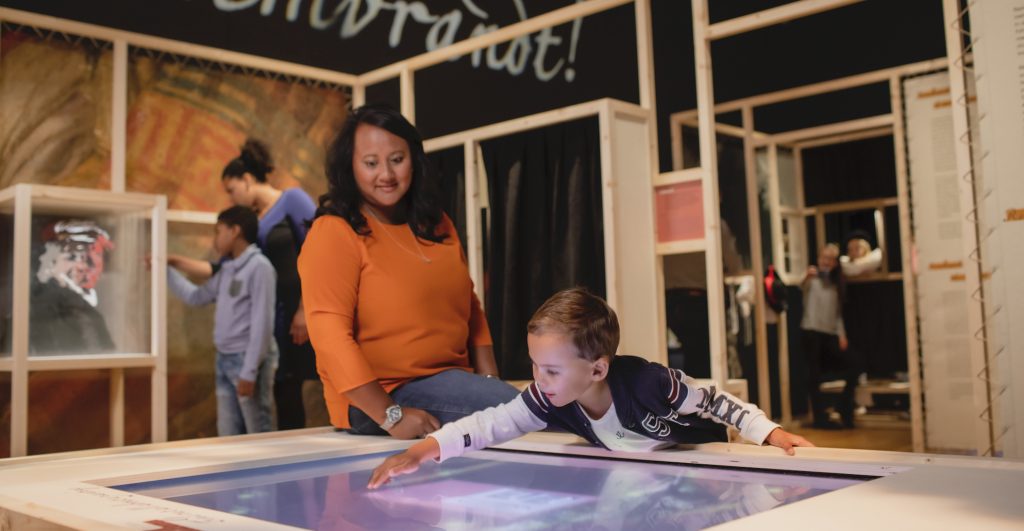 Hello Rembrandt!
Until 11 April 2021
Hello Rembrandt! is an interactive exhibition for young explorers from approximately 7 to 12 years old. Get to know Rembrandt's masterpieces by looking and doing. Try out Rembrandt's lighting, see how many layers a painting is built up, or dive into a pigment cabinet with all the pigments that Rembrandt used to make his paint. Did you know for example that painters used to use lead white, which we now know to be very poisonous? Through various interactive components and digital screens and a photo booth with Rembrandtesque lighting you can learn more about how Rembrandt went to work. What better place to do that than in Rembransdt's own home? From the very start the visit feels like an adventure.
Hello Rembrandt! was initiated and developed by the Mauritshuis, Den Haag and was presented there in the summer of 2019. The exhibition is made possible by the Society of Friends of The Rembrandt House Museum, Fonds 1818, Fonds 21, Stichting de Johan Maurits Compagnie, Stichting S. Robert en Denise Zeilstra Foundation.

Hat on for Rembrandt
Until 11 April 2021
In Hat on for Rembrandt photographic portraits of children are paired with etchings by Rembrandt. In these artworks you'll see the most beautiful, crazy and most extravagant head coverings. This series of photos was the product of the multi-year art project Hat on for Rembrandt by Stichting Kunsteducatie De Rode Loper op School (The Red Carpet at School Art Foundation). Elementary school children designed a hat and had their portraits taken, in the spirit of Rembrandt, by photographer Marije van der Hoeven. The results are playful, moving, and surprising. The proud young creators reflect on who they may have been in the past.
Hat on for Rembrandt is an initiative by Stichting Kunsteducatie de Rode Loper op School. Many thanks to Amsterdam Fonds voor de Kunst and Fonds voor Cultuurparticipatie.

Donation: Painting by Ferdinand Bol
Like so many museums and cultural institutions, The Rembrandt House Museum faces great difficulties due to the corona crisis. This is why Willem Jan Hoogsteder – collector, dealer and chair of the Hoogsteder Museum Foundation – together with his wife Karin Hoogsteder decided to support the museum in a special way: with the gift of a painting from their private collection. The painting Shepherdess in a Landscape was made in 1641 by Ferdinand Bol, one of Rembrandt's most famous pupils. This work will go on view as the museum reopens, in the Salon, the room where Rembrandt lived and slept, in The Rembrandt House Museum. In the same house, Ferdinand Bol took instruction from Rembrandt in the seventeenth century.
Note for the press: visit our press page for more information.