It is by no means always easy to recognize members of Rembrandt's family and his friends in his paintings. Although we have a reasonably good idea of what Saskia looked like, for example, there are still arguments about whether she is or is not pictured in a particular work. An added complication is that Saskia's face was the inspiration for a facial type that Rembrandt often used. In truth, almost all Rembrandt's ideal women look like Saskia to some extent, without actually being her.
Nevertheless, there are five paintings that everyone agrees are of Saskia. He seems to have made some of them as a tribute to his wife; one such is the portrait now in Kassel. It shows Saskia in a magnificent, elaborate fantastical costume of crimson velvet, fur and a spectacular wide-brimmed hat with an ostrich plume. She appears in profile, deep in thought. The portrait is dignified and restrained, but has great visual richness; it is a distinguished portrait that does justice to Saskia's well-bred origins. As far as Rembrandt was concerned, this painting must have been an important personal project. He worked on it over a period of almost ten years, roughly from when he became engaged to Saskia (1633) until her death (1642) and he always kept the painting in his home.
It was not until thirteen years later, when he was up to his neck in debt and in urgent need of money, that he sold it to his good friend Jan Six I. Even then, though, Rembrandt could not let it go altogether and he got his pupils to make a free copy of it. He kept this copy with him in memory of his great love, whom he had lost so tragically young. This painting is now on view in our exhibition Rembrandt's Social Network.
Saskia was daughter of the prominent lawyer Rombertus Uylenburgh, who rose to the highest positions in Friesland: pensionary and High Court jurist, and burgomaster of Leeuwarden. He was notably the last visitor of William of Orange just before his assassination. After his death in 1624 his young daughter Saskia followed her sister Hizkia and her husband Gerrit van Loo, who became her guardian, when they settled in the northern town of Sint Annaparochie in 1627. In 1633, she visited her cousin Aeltje Uylenburgh in Amsterdam. In that year her husband the Reformed preacher Johannes Silvius was having a portrait etching made by Rembrandt, working in the house and studio of another cousin, the portrait broker Hendrick Uylenburgh. This may have been the occasion for her to meet the successful young artist. They were engaged in June, and married a year later, living at the house in the Jodenbreestraat until 1635.
Rembrandt painted many portraits of Saskia and incorporated her likeness in various history and genre scenes, attesting to an affectionate and respectful relationship. She bore him four children, of whom only the last one, Titus, survived infancy. During these years the Uylenburgh family figures prominently in Rembrandt's life, but not always without tension. They expressed concern about the management of her inheritance, and in her last testament she stipulated that Titus receive his entitlement as soon as Rembrandt remarried. In 1642 she succumbed to illness, thought to be tuberculosis, just as Rembrandt was completing the Night Watch.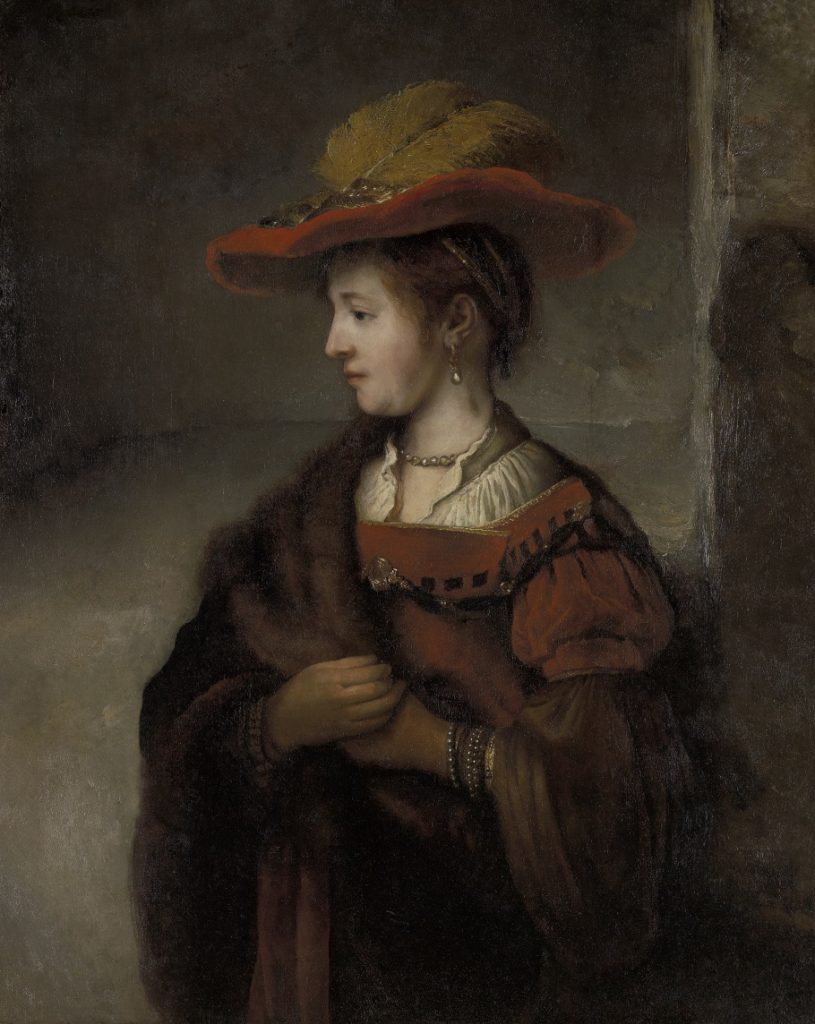 Rembrandt studio (possibly Abraham van Dijck) Portrait of Saskia Uylenburgh, c. 1652 Oil on canvas, 112 x 89 cm Antwerp, Koninklijk Museum voor Schone Kunsten