In 'Rembrandt Curated' we combine an artwork by Rembrandt with a work by another artist. The two works evoke associations with one another, whether it is the theme, composition, colour scheme, or just a feeling. The 'Rembrandt Curated' of this week: Rembrandt, Self-Portrait in Oriental Attire, 1631 (Petit Palais, Paris) and William Hogarth, The Painter and his Pug, 1745 (Tate Britain, London). The two paintings share some very obvious similarities. First of all, they're both self-portraits of the artists. Secondly, we see they've brought their pet dogs for the occasion. But a closer examination reveals some differences between the two portraits as well.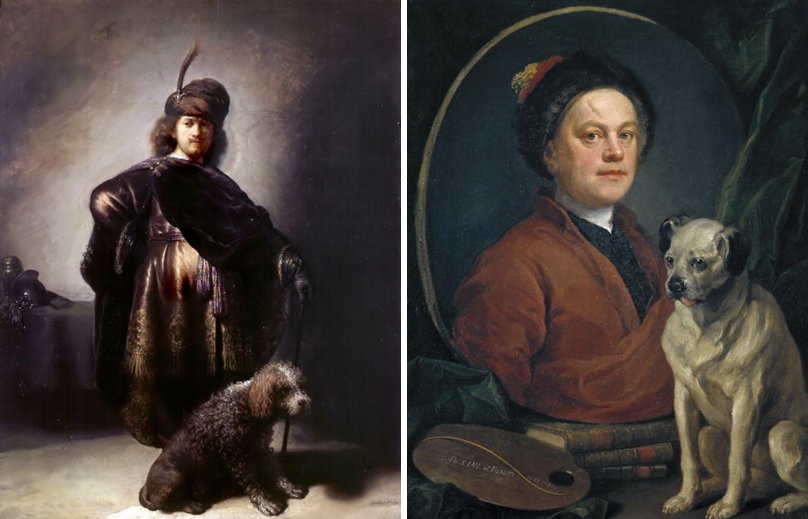 On the left we see Rembrandt's self-portrait from 1631. The artist has depicted himself full-length, which is very extraordinary. It is in fact his only self-portrait where we see him standing up. Rembrandt however, wasn't quite satisfied with his own efforts. X-rays of the panel have shown that in different stages of execution, Rembrandt shortened his legs and later hid them completely behind the dog. Perhaps this is the reason Rembrandt incorporated the animal in the painting. When we take another look at Rembrandt, we see that he has depicted himself very much as a gentleman. He's wearing an exotic and lavish looking costume, including a turban, and holding an elegant walking stick. Although the armour in the background is part of a painter's set of attributes, Rembrandt's aim doesn't seem to be to present himself as an artist, more than a man of high social standing.
The British artist William Hogarth definitely wanted the viewer to know that he is a painter. His palette is visibly placed in the foreground and reads 'Line of Beauty and Grace', which underpinned Hogarth's theories on art. Just like Rembrandt, Hogarth made some changes to his self-portrait along the way. But in his case, it was about his image: X-rays have revealed that initially the artist depicted himself wearing a formal coat and wig. He later changed these to the more informal cap and clothes seen here. Where Rembrandt made a conscious effort to present himself as a gentleman, Hogarth went the opposite direction.