In 'Rembrandt Curated' we combine an artwork by Rembrandt with a work by another artist. The two works evoke associations with one another, whether it is the theme, composition, colour scheme, or just a feeling. The 'Rembrandt Curated' of this week: Rembrandt, A Woman in Bed,  c. 1645-46 (National Galleries of Scotland, Edinburgh) and Edouard Vuillard, In Bed, 1891 (Musée d'Orsay, Paris).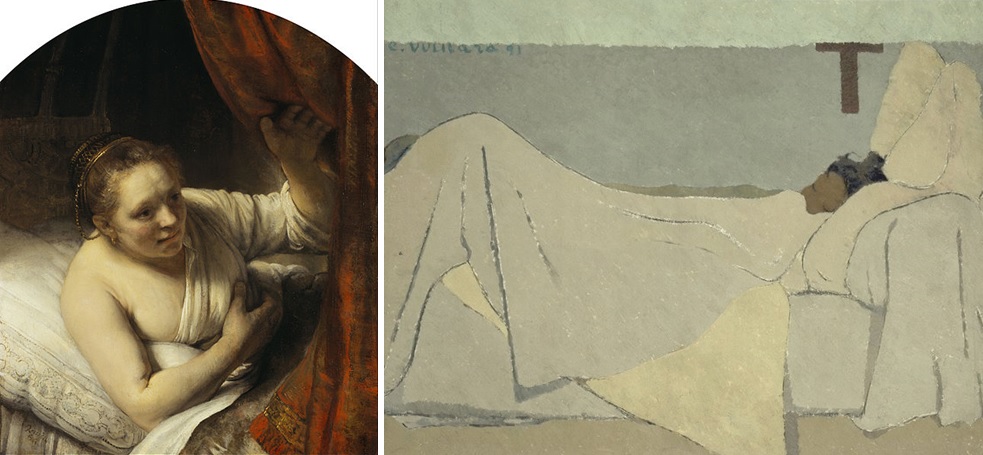 At first glance, these two paintings by Rembrandt (on the left) and Vuillard (on the right) seem to have the same subject: sleep. In Rembrandt's painting we see a woman in bed, who has apparently just woken up or is preparing to go to sleep, opening the curtain by her bed. Perhaps she has heard a noise, or is expecting someone. Her clothing, with her breast half exposed, looks historic, the same goes for the decoration in her hair. The painting by Vuillard is undoubtedly more modern, more minimalistic. The woman in this work seems to be vast asleep, with her face tucked into the sheets. The colour scheme in Vuillard's painting is also more serene and light than in Rembrandt's painting. In Rembrandt's work we see a dark background and our attention is drawn towards the red of the curtain. Vuillard's painting is made up of white and grey tones, with the exception of the woman's face and the cross that is hanging on the wall beside the bed.
However, Rembrandt's painting has an underlying story. The classical clothing and hair decoration suggest a historical scene, possibly that featuring Sarah and Tobit. According to the Apocryphal story in the Old Testament, a demon had killed seven of Sarah's husbands on their subsequent wedding nights. Tobit, Sarah's eight husband, decided to take on the demon, successfully. It is quite possible that we see Sarah anxiously anticipating Tobit's return. Pieter Lastman, Rembrandt's former teacher, made a similar painting with this theme, making this theory about the subject of Rembrandt's painting plausible.
What are your thoughts on these two artworks? Do they form a good pair? We would love to hear what you think!