In 'Rembrandt Curated' we combine an artwork by Rembrandt with a work by another artist. The two works evoke associations with one another, whether it is the theme, composition, colour scheme, or just a feeling. The 'Rembrandt Curated' of this week: Rembrandt, Portrait of Saskia van Uylenburgh, c. 1633/34-1642 (Gemäldegalerie Alte Meister, Kassel) and Claude Monet, Woman with a Parasol – Madame Monet and Her Son, 1875 (National Gallery of Art, Washington).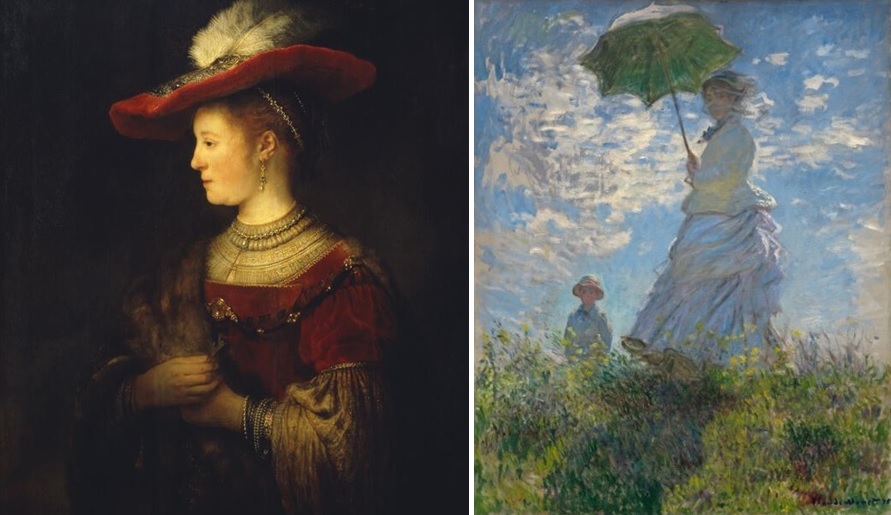 Both paintings give us some insight in the personal lives of two artists – these two portraits depict the wives of both Rembrandt and Monet, respectively Saskia (on the left) and Camille (on the right). Although both paintings have the same theme, they differ in numerous ways. For instance, Rembrandt's portrait is much more formal than Monet's artwork. Rembrandt probably painted it in his workshop (located in what now is The Rembrandt House Museum), whilst Monet made his painting during an hour-long session in the open air. Furthermore, Rembrandt's painting shows a strong light-dark contrast, typical for Rembrandt's work, whereas the light in Monet's portrait is far more equal, fitting for an outdoor scene on a lovely sunny day. Also the painting styles of both artists is very different. Rembrandt's brushstrokes in this painting are quite controlled, especially in comparison to his later work. Almost 250 years later, Monet took Rembrandt's dynamic brushstrokes from his later life to a whole new level, making him one of the founders of impressionism.
Although Rembrandt started working on his portrait of Saskia much earlier, he completed it in 1642, not long after his wife's death. In 1652 he sold it to the art collector Jan Six, with whom Rembrandt was friends. Probably as a way of keeping something of the image of his wife for himself, Rembrandt had a copy made by a pupil around 1652. This free copy is currently on view in The Rembrandt House Museum, in Rembrandt's former salon.
What are your thoughts on these two artworks? Do they form a good pair? We would love to hear what you think!