In 'Rembrandt Curated' we combine an artwork by Rembrandt with a work by another artist. The two works evoke associations with one another, whether it is the theme, composition, colour scheme, or just a feeling. The 'Rembrandt Curated' of this week: Gerrit Dou, Self-Portrait, c. 1665 (The Metropolitan Museum of Art, New York) and Rembrandt, Self-Portrait, 1669 (Mauritshuis, The Hague).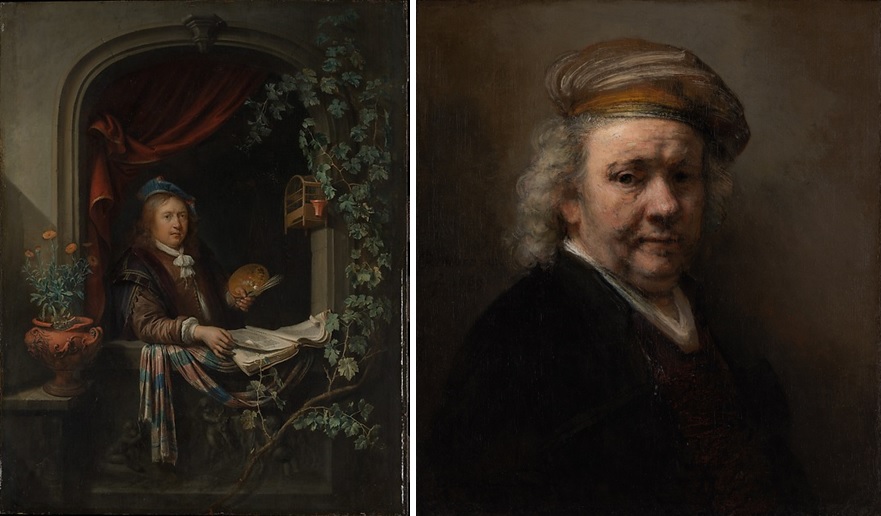 Rembrandt already had a number of pupils in his early years in Leiden. In Amsterdam the number grew significantly, particularly between 1640 and 1650, from his early thirties on. There were three types of pupil in Rembrandt's workshop. Firstly there were the pupils aged between twelve and fourteen, boys who wanted to become painters in their own right. When pupils like that came to Rembrandt, they had usually already served an apprenticeship with another artist. In the second group were the assistants, who after training with Rembrandt remained in the workshop and helped with instruction and production. They were painters who made their own paintings in the style of the master, some of which are considered to be genuine Rembrandts to this day. Finally there were the 'amateurs', who took drawing and painting lessons as part of a good upbringing and did not need to make a living from painting. Rembrandt did not teach all his pupils the same thing; it could vary from refined painting to painting with a coarse brush. Pupils did, though, cultivate what they had picked up in their own way. Rembrandt's first pupil in Leiden, Gerrit (Gerard) Dou (1613-1675), developed an extremely precise way of painting, completely opposite from Rembrandt's own painting style. Here we see two late self-portraits by Dou (on the left) and his former teacher Rembrandt (on the right) that illustrate this beautifully.
Dou painted perhaps a dozen or more self-portraits over the course of his life. This example is one of his latest, dating from about 1665. Dou was the leading figure among the Leiden fijnschilders (fine painters) who continued the earlier Netherlandish tradition of meticulous description and superb craftsmanship. Here the artist presents himself as a learned painter, with a large book and scholarly attire. Rembrandt on the other hand, painted the most self-portraits out of all the seventeenth-century artists. This self-portrait dates from 1669, the year the artist died. His painting style is the absolute opposite of Dou's – expressive, with dynamic brushstrokes, all the while maintaining a remarkable likeness to reality. Rembrandt suggest a man of flesh a blood with seemingly effortlessly applied thick layers of paint.
What are your thoughts on these two artworks? Do they form a good pair? We would love to hear what you think!