In 'Rembrandt Curated' we combine an artwork by Rembrandt with a work by another artist. The two works evoke associations with one another, whether it is the theme, composition, colour scheme, or just a feeling. The 'Rembrandt Curated' of this week:  Rembrandt, Titus at his desk, 1655 (Museum Boijmans van Beuningen, Rotterdam) and Jonathan Richardson, Portrait of the Artist's Son, Jonathan Richardson the Younger, in his Study, c. 1734 (Tate Britain, London). Sometimes, an artist doesn't have to seek far to find inspiration. Many artists have discovered perfect models or sources of inspiration within their own home. Here we see two examples of artists that have depicted their sons in their daily surroundings: Rembrandt's son Titus (on the left) and the son of Jonathan Richardson (on the right).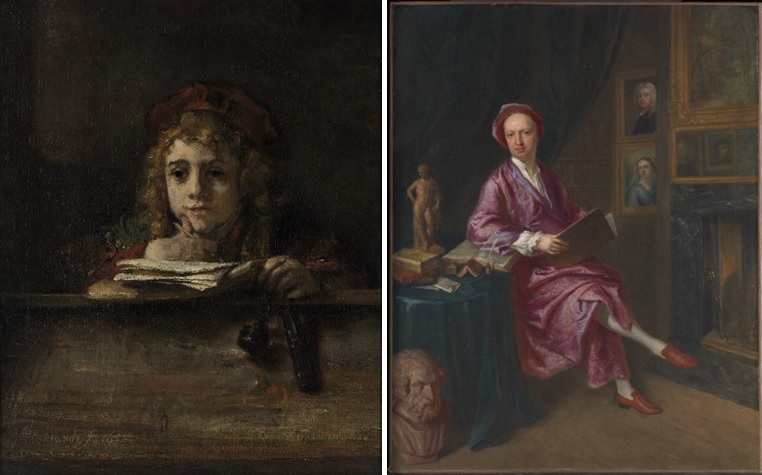 Titus, who was born in 1641, was the only one of Saskia and Rembrandt's children to live beyond infancy. We don't know much about Titus' childhood, other than he was taught drawing, presumably by his father. The inventory of Rembrandt's possessions that was compiled after his bankruptcy in 1656 lists a couple of works by Titus. After this bankrupty, Titus took over the art dealing business together with Rembrandt's new love Hendrickje Stoffels in order to keep the income from it out of the hands of Rembrandt's creditors. Titus eventually died of the plague in 1668, a year before his father.
Jonathan Richardson (1667-1745) is one of the most famous British artists of his generation and was one of an elite group of portrait painters. Besides his work as an artist, he was also an important art theorist of the early eighteenth-century. In this painting we see his son, Jonathan Rochardson the Younger, in his study. Junior shared a lot of his father's cultural enthusiasm, but he never became an artist himself. He was raised a gentleman, keeping himself busy with enriching his mind.
When we look at the two portraits of the artists' sons, we can see big some differences. Titus is staring ahead, consumed by his thoughts. He holds a pen in his right hand, his thumb presses against his chin. Rembrandt depicted his son while he is doing his homework, as we can see by the pen, the pen case and the papers on the desk. Titus seems completely unaware of his father's observant gaze. This sense of intimacy is underlined by the small distance between the painter and his subject and the dark colour scheme. The opposite feeling of intimacy and hominess is displayed in Richardson's portrait of his son. Unlike Titus, Jonathan the Younger is posing confidently and very self-aware for his portrait. The British artist placed his son in a richly decorate interior, fitting for his role as a gentleman. The bust of Homer is a reference to Jonathan the Younger's study of ancient Greek philosophy. The painter has incorporated himself in this painting as well – in the background we see a portrait of Jonathan Richardson senior and a portrait of his wife.
What are your thoughts on these two artworks? Do they form a good pair? We would love to hear what you think!