In 'Rembrandt Curated' we combine an artwork by Rembrandt with a work by another artist. The two works evoke associations with one another, whether it is the theme, composition, color scheme, or just a feeling. The 'Rembrandt Curated' of this week: Quentin Massijs, The Moneylender and His Wife, 1514 (Musée du Louvre, Paris) and Rembrandt, Parable of the Rich Man, 1627 (Gemäldegalerie, Staaliche Museen zu Berlin, Berlin).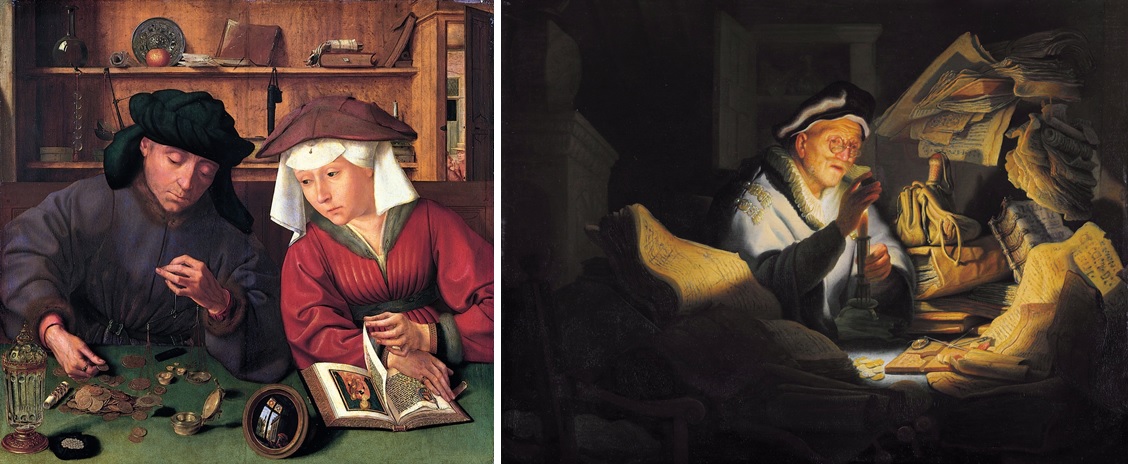 The two paintings we see here depict something quite similar: people counting money. However, both artworks are more than just descriptive works documenting a profession or practice. They are allegorical and moral works, condemning vanity and avarice. Rembrandt (seen on the right) has clearly depicted the parable of the rich fool, the Bible story of Lucas 12. An old rich man is counting his money by candlelight, studying every coin meticulously. The common interpretation of this parable is that it's pointless to devote your life to the acquisition of wealth, because it will all be gone after you die. According to the Bible story, it's better to be rich in faith than in money. The pile of books we see in this painting, almost collapsing on the old man, are a frequently used symbol for vanity.
The earlier painting by the Antwerp artist Quentin Massijs (1466-1530) shows us a man and woman. The man is busy weighing and counting pearls, jewels and pieces of gold. This is distracting his wife from her solemn activity, reading a book of devotion. The moralizing message here is quite clear and supported by several other symbols in the painting. For instance, the pearls symbolize lust, the fruit on the shelf refer to The Fall of Man and the carafe of water symbolize the purity of the Virgin Mary.
When we look solely at the way the two paintings are executed, the difference is remarkable. Massijs' painting is quite evenly lit, apart from a few shadows. Rembrandt's work on the other hand, shows a strong light and dark contrast; the source of light is the candle. Our attention is drawn towards the face of the man and what he is doing. The candle cast a light on the pile of books from below, which highlights the unstable position of the pile. When we look back at Massijs' painting, we see another example of artistic virtuosity: the little mirror in the foreground gives the painting depth and presents us an intriguing reflection, reminiscent of the Flemish painter Jan van Eyck (1390-1441).