In 'Rembrandt Curated' we combine an artwork by Rembrandt with a work by another artist. The two works evoke associations with one another, whether it is the theme, composition, color scheme, or just a feeling. The 'Rembrandt Curated' of this week: Rubens, The Honeysuckle Bower, c. 1609 (Alte Pinakothek, Munich) Rembrandt, Self-portrait with Saskia, 1636 (The Rembrandt House Museum, Amsterdam).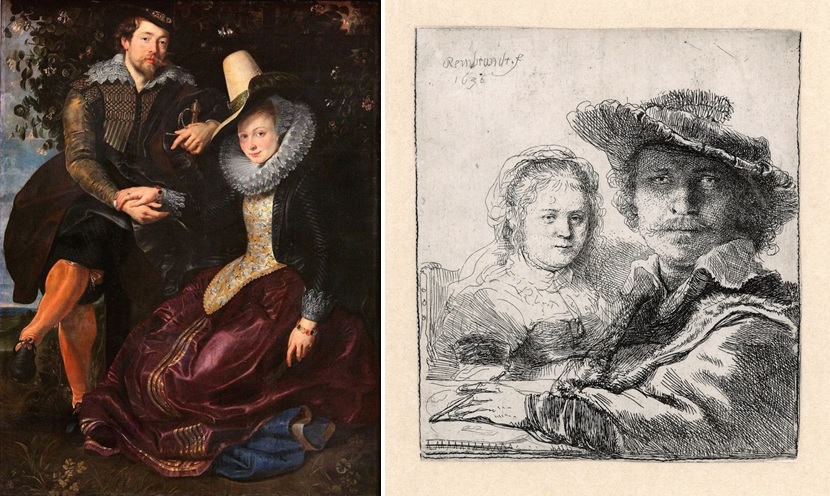 Here we see two double portraits made by two great old masters: Rubens (on the left) and Rembrandt (on the right) with their spouses. Rembrandt has kept his etching relatively simple. He has depicted himself drawing, or possibly in the process of making an etching. Rembrandt is prominently on view in the foreground, beside him sits his wife Saskia Uylenburgh, whom he had married two years earlier.
Rubens, one of Rembrandt's examples, has made a more extravagant self-portrait. He probably painted this double portrait shortly after his wedding to Isabella Brant. The holding of their right hands ('junctio dextrarum'), represents their recent union through marriage. There are several other symbolic elements in this painting, referring to marriage and the role of each of both spouses. The newlyweds are seated under in a bower of honeysuckle (hence the English title of this painting) – a symbol of marital love and stability. Furthermore, Rubens has placed his hand on the hilt of his sword, as a sign of his protective role. What also stands out is the position of the couple: Isabella is sitting lower than her husband, symbolizing 'humilitas', humility.
Both artworks show us a happy young couple. The artists share their self-portraits proudly with their new wives. The major difference between the two works is the way Rembrandt and Rubens have depicted themselves: Rubens as a gentleman, Rembrandt as an artist. What are your thoughts on these two artworks? Do they form a good pair? We would love to hear what you think!