Rembrandt executed his drawing of the female nude with energetic strokes of red chalk. A layer of white gouache underneath the chalk gives the drawing a beautiful luminosity and brilliance. The posture of the woman is confident and sensual, with a certain focus on her exposed breasts. The woman in Piero di Cosimo's painting exudes a similar self-confidence and sensuality. Di Cosimo executed this painting with tempera: a mixture of colour pigments and egg yolks, the precursor of oil paint.
At first glance it seems that Rembrandt's drawing and Piero di Cosimo's painting depict the same woman. Her naked breasts, the presence of the snake, and her complex hair style suggest that this is Cleopatra, the famous Egyptian queen. However, the snake has a long pictorial tradition, and therefor is not connected to the image of Cleopatra per definition. Since the Classical Antiquity the snake biting its own tale has been the symbol for eternity, or for time's rejuvenating cycle. The snake can also symbolize 'Prudentia', wisdom, or refer to the Biblical story of the Fall of Man. It is plausible that the snake in Rembrandt's drawing refers to the latter, for it is known that Rembrandt used this drawing as an example for his depiction of Eve in his etching The Fall of Man from 1638 (The Rembrandt House Museum, Amsterdam).
The identification of the woman in Piero di Cosimo's painting has been a matter of dispute amongst art historians even more. The inscription on the bottom part of the painting reads "Simonetta Ianuensis Vespucci". This has led to a certain agreement that this is a portrait of the noblewoman Simonetta Vespucci: the wife of Marco Vespucci, and beloved mistress of Giulano de' Medici. However, it's not without question if the woman in this painting is Simonetta Vespucci. This painting was executed fourteen years after her death, and the inscription with her name was possibly added later. The overt erotic appeal of this painting also calls it into question if this is in fact the portrait of a woman of high social standing. On the other hand, the gloomy landscape in the background suggests that this woman might be Simonetta Vespucci after all; the dead tree is used in Italian Renaissance paintings as a symbol of death. Simonetta Vespucci died tragically at the age of 23, what would mean that this painting is somewhat of an 'in memoriam'.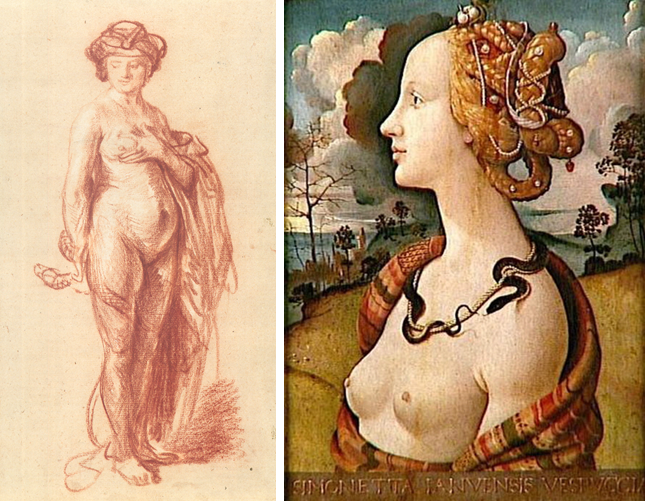 Rembrandt, A Nude Woman with a Snake, c. 1636 (J. Paul Getty Museum, Los Angeles) and Piero di Cosimo, Portrait of a woman, said to be Simonetta Vespucci, c. 1490 (Musée Condé, Chantilly)