In 'Rembrandt Curated' we combine an artwork by Rembrandt with a work by another artist. The two works evoke associations with one another, whether it is the theme, composition, color scheme, or just a feeling. The 'Rembrandt Curated' of this week: Rembrandt, A Woman and Child Descending a Staircase, c. 1625-1636 (Pierpont Morgan Library, New York) and Pablo Picasso, Maternity, 1921 (Private collection).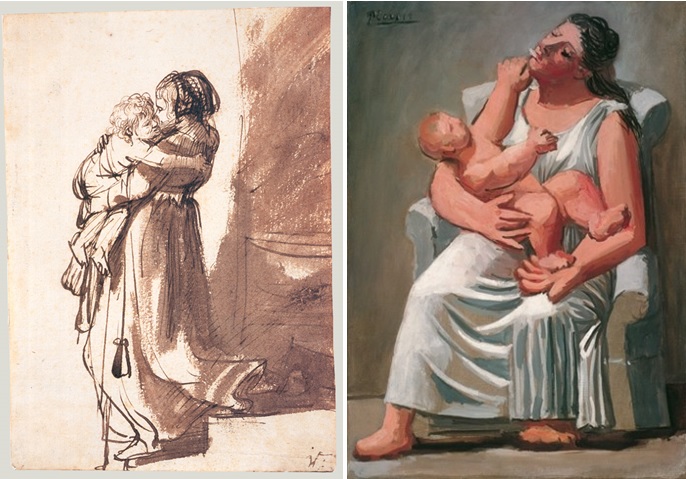 Both artworks display motherhood in a very delicate and intimate way.  We see mothers holding their small children, totally absorbed with their babies that they not know that we are watching them. Rembrandt has used just a few lines to create an outline, drawing our attention to the more detailed rendering of the faces of mother and child. Picasso's Maternity shows a woman clothed in a classic, toga-like dress as she holds a very lively baby. This depiction of motherhood belongs to the artist's neoclassical period, with a style that is reminiscent of classicism. In this period of time he created quite a few pictures inspired by and dedicated to motherhood. The women resemble antique statues of ancient goddesses, symbols of femininity and strength.
We know that Rembrandt made several drawings – studies from life, depicting everyday scenes. Unfortunately, we don't know the identity of the woman in this picture. Could it be his wife Saskia? We know that Rembrandt and Saskia had a son in 1635, Rumbartus, who unfortunately died just two months after he was born. However, looking at the child in this drawing, it is unlikely that it could be Rumbartus. In the case of Picasso's painting, it is very likely a depiction of his wife Olga Koklova, a Russian ballerina, and their child. In 1921, the year Picasso made this painting, their son Paulo was born.
What are your thoughts on these two artworks? Do they form a good pair? We would love to hear what you think!