In 'Rembrandt Curated' we combine an artwork by Rembrandt with a work by another artist. The two works evoke associations with one another, whether it is the theme, composition, color scheme, or just a feeling. The 'Rembrandt Curated' of this week: Rembrandt, Old Man with a Black Hat and Gorget, c. 1631 (Art Institute of Chicago, Chicago) and Mark Rothko, No. 8, 1964 (National Gallery of Art, Washington)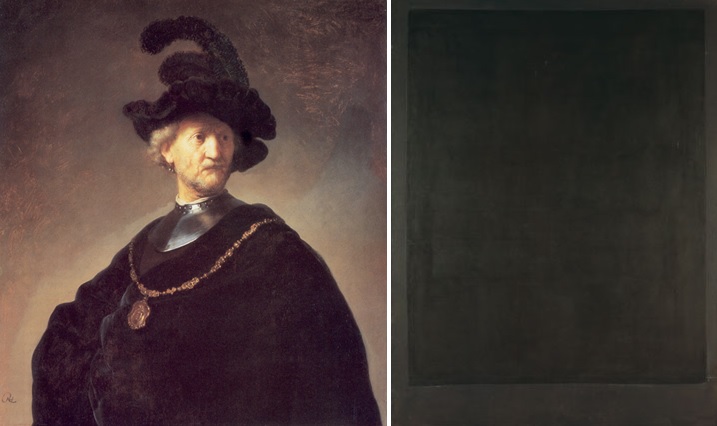 On the left we see a grand painting by Rembrandt. It features an old man, wearing a black, plumed hat, a gold chain and a steel gorget. The model for this painting, whose identity remains unclear, appears frequently in Rembrandt's early work. We see an intriguing contrast between the shimmering chain and gorget and the richness and deepness of the black clothing. As we look closely at the painting, we seem to be sucked into the black fabric, our eye wandering through the different shades and nuances of the dark colour.
The same effect is achieved by Mark Rothko, in his painting No. 8 from 1964. No. 8 is part of a series of black paintings, although they were never shown as a series during the artist's lifetime. These works mark a break with Rothko's colour field paintings of the 1950s. At first glance, the painting may appear solid black. However, if we keep looking, we see multiple layers of black in different gradations in tone and texture. Like with Rembrandt's painting, the viewer is invited to look more closely. Both artists apply different textures and tones with paint, but Rothko departs from any figuration whatsoever. In his painting, it is all about colour and abstract form.
What are your thoughts on these two artworks? Do they form a good pair? We would love to hear what you think!