In 'Rembrandt Curated' we combine an artwork by Rembrandt with a work by another artist. The two works evoke associations with one another, whether it is the theme, composition, color scheme, or just a feeling. The 'Rembrandt Curated' of this week: Rembrandt, A Study of a Female Nude Seen from the Back, c. 1630-1634 (The Coultard Institute Gallery, London) and Jean-Auguste-Dominique Ingres, The Bather, known as The Valpinçon Bather, 1808 (Musée du Louvre, Paris).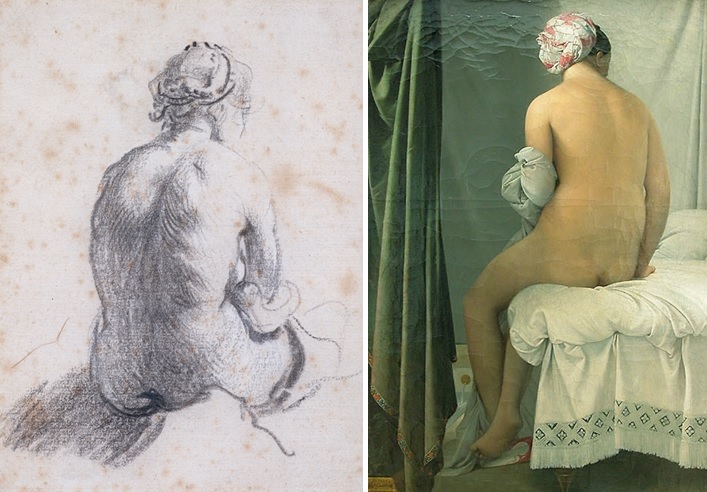 Rembrandt has made several studies and etchings of female nudes in the 1630s. These were drawn from life in the artist's studio and as we can see definitely unidealised. Here we see a study of a female nude seen from the back. Rembrandt shows how light and shade can shape the torso and give the drawing a sense of texture. Heavy strokes indicate the cast shadow, short curves shape the back, delicate lines suggest a drapery covering the woman's lap and thick lines accentuate her hair decoration. With nothing more than a pencil and several lines, Rembrandt has created an uncompromising and naturalistic depiction of a nude woman.
More than 170 years later, the French master of classicism, Jean-Auguste-Dominique Ingres painted a female nude seen from the back that looks almost identical to Rembrandt's composition. There is no direct evidence showing that Ingres was inspired by Rembrandt for this painting, but the two artists were linked by art critics, the Goncourt brothers. After having seen Ingres' painting in 1855, they remarked: "Rembrandt himself would have envied the amber color of this pale torso." Ingres The Bather is his first great nude painting, the model for all his later nudes. We see a variety of textures; her turban, the curtains and of course her skin – all executed with fine lines brushstrokes.
What are your thoughts on these two artworks? Do they form a good pair? We would love to hear what you think!