In 'Rembrandt Curated' we combine an artwork by Rembrandt with a work by another artist. The two works evoke associations with one another, whether it is the theme, composition, color scheme, or just a feeling. The 'Rembrandt Curated' of this week: Rembrandt, Woman with a Pink, early 1660s (The Metropolitan Museum of Art, New York) and Henri Matisse, Woman in Green, 1909 (State Hermitage Museum, St. Petersburg).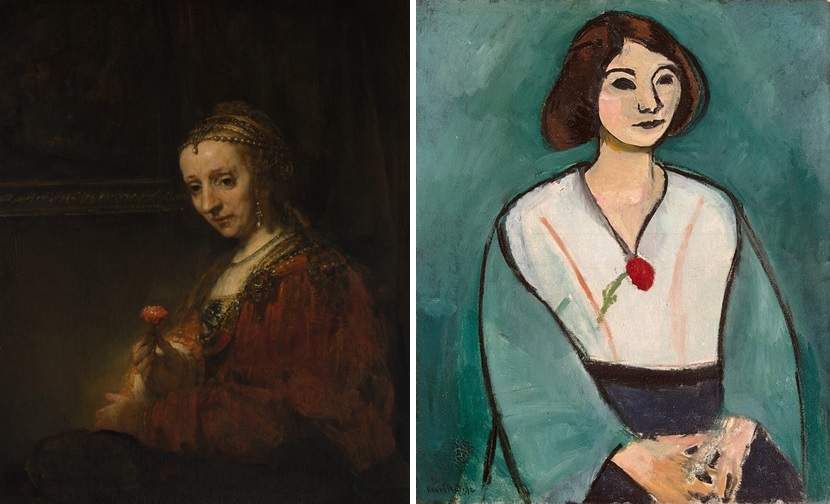 Rembrandt's painting Woman with a Pink is a lovely portrait of a woman, which he made in the last years of his life. This quite possibly might be the portrait of Elizabeth Delft, the wife of Pieter Haringh. Haringh was a lawyer from Utrecht and an auctioneer of estates in Amsterdam. As an auctioneer of estates, Haringh must have dealt with works of art, jewelry, silver and fine fabrics. The painting in the background of this portrait and the attire of (presumably) Elizabeth Delft seem to reinforce the association of this couple with luxury goods. If we look more closely, we can see that the woman's jewelry is exotic and her costume is romantically outdated. She is also holding a pink, or carnation. This flower is known as a symbol of love and marriage.
The red carnation makes a comeback almost 350 years later in Matisse's painting Woman in Green. Matisse painted this work during his stay in the south of France in the summer of 1909. In that same time he created more than one painting depicting the same woman with her straight back and slender neck. The most striking element about this painting are the different variations of green colour; the picture exudes a cool and deep feeling. The figure is depicted with simple yet firm outlines and bottomless black eyes. On her light blouse, perfectly centered in the painting, we see the red carnation.
In Rembrandt's painting the carnation is a symbol of love. Although the woman is wearing an abundance of jewelry, the viewer's eye is drawn towards the flower that she delicately and lovingly holds up. In Matisse's painting we see something different; the woman does not hold the flower in her hand. The carnation seems to be pinned to her blouse, whilst she calmly rests her hands in her lap. Could the carnation in this painting also be a symbol of love? What are your thoughts on these two artworks? Do they form a good pair? We would love to hear what you think!