In 'Rembrandt Curated' we combine an artwork by Rembrandt with a work by another artist. The two works evoke associations with one another, whether it is the theme, composition, color scheme, or just a feeling. The 'Rembrandt Curated' of this week: Rembrandt, The Fall of Man, 1638 (The Rembrandt House Museum) and Albrecht Dürer, Adam and Eve, 1504 (Rijksmuseum, Amsterdam).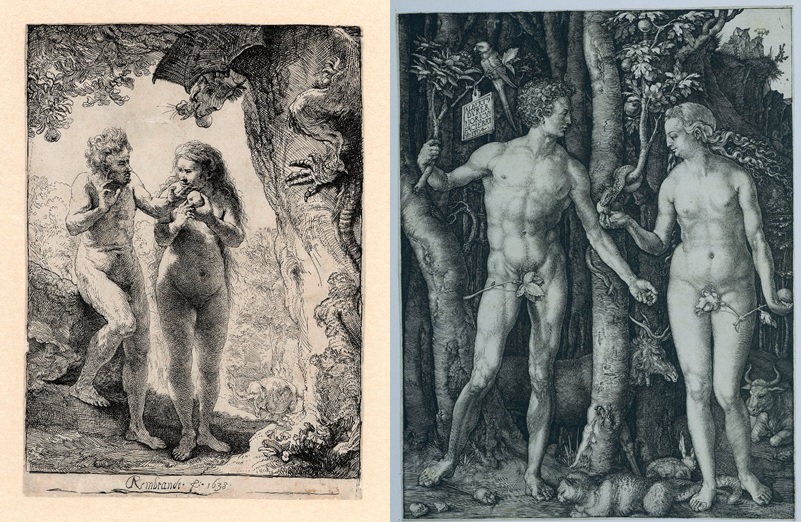 Both prints show us the Biblical story of The Fall of Man. After the creation Adam and Eve lived in the Garden of Eden. Their time in Paradise came to an end when Eve was seduced by the serpent into eating the forbidden fruit of the tree of knowledge of good and evil.
Subjects from the Old and New Testament account for a large proportion of Rembrandt's work. In his Biblical prints Rembrandt followed not only the text but also, more importantly, the pictorial tradition. He drew very freely and creatively on the work of his predecessors, which he would have known well from his own large collection of prints. This collection included over 3000 sheets of Biblical subjects alone.
In his etching of The Fall of Man from 1638, Rembrandt has depicted Adam and Eve very realistically as ordinary, naked, no longer particularly young people. In the tree we can see the serpent as a dragon with claws. According to the Bible the animal did not have to crawl over the ground on its belly until after the Fall. Rembrandt borrowed this motif from one of his examples, Albrecht Dürer.
On the right we can see a different print by Dürer, showing the same moment as Rembrandt's etching. Dürer incorporated several other animals alongside the serpent, that quite possibly symbolize the four temperaments. According to the theory of the temperaments every human personality had four different aspects that were still balanced in Paradise. Irritability is depicted by the cat in the foreground, zealousness by the rabbit behind the cat, imperturbability by the ox (behind Eve, on the right) and melancholy by the elk in the middle, behind the tree.
What are your thoughts on these two artworks? Do they form a good pair? We would love to hear what you think!