In 'Rembrandt Curated' we combine an artwork by Rembrandt with a work by another artist. The two works evoke associations with one another, whether it is the theme, composition, color scheme, or just a feeling. The 'Rembrandt Curated' of this week: Rembrandt, Naked Woman Seated on a Mound, c. 1631 (The Rembrandt House Museum, Amsterdam), and Eduard Manet, Olympia, 1863 (Musée d'Orsay, Paris).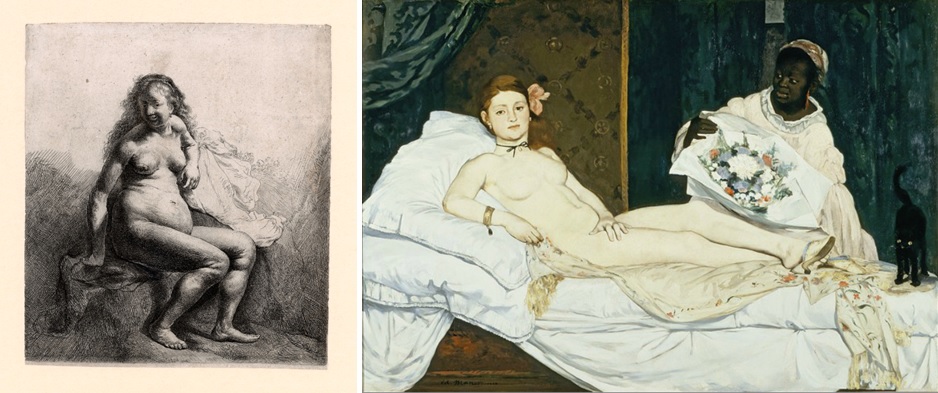 In his etching, Rembrandt has displayed a voluptuous naked woman. She clearly challenges the image of classical beauty, with her slightly sagging breasts and her hanging stomach. Instead of creating a composition where the model lies elegantly on a sofa, Rembrandt has placed her on a mound. With his artwork, Rembrandt has kept it real; he turned his back on the tradition of  idealizing the human body, and has chosen to show nature in its truest form.
Similarly to Rembrandt, Manet reworked the traditional theme of the female nude, creating an uncompromising image. This painting caused a big scandal at the Salon in 1865. Manet quoted numerous iconographic references, such as Titian's Venus of Urbino (1538, Gallerie degli Uffizi, Florence), but his Venus has become a prostitute. She not only challenges the viewer with her brazen look, but also has a black cat (often used as a symbol for prostitution) instead of a small dog (which was the common pet for decent ladies). Manet has transformed the image of a goddess into an image of a woman of low social standing, portraying a truly contemporary subject for that time.
What are your thoughts on these two artworks? Do they form a good pair? We would love to hear what you think!