In 'Rembrandt Curated' we combine an artwork by Rembrandt with a work by another artist. The two works evoke associations with one another, whether it is the theme, composition, color scheme, or just a feeling. The 'Rembrandt Curated' of this week is: Gerrit Dou, Self-Portrait, c. 1665 (The Metropolitan Museum of Art, New York) and Rembrandt, Self-portrait with two circles, c. 1665-1669 (Kenwood House, London).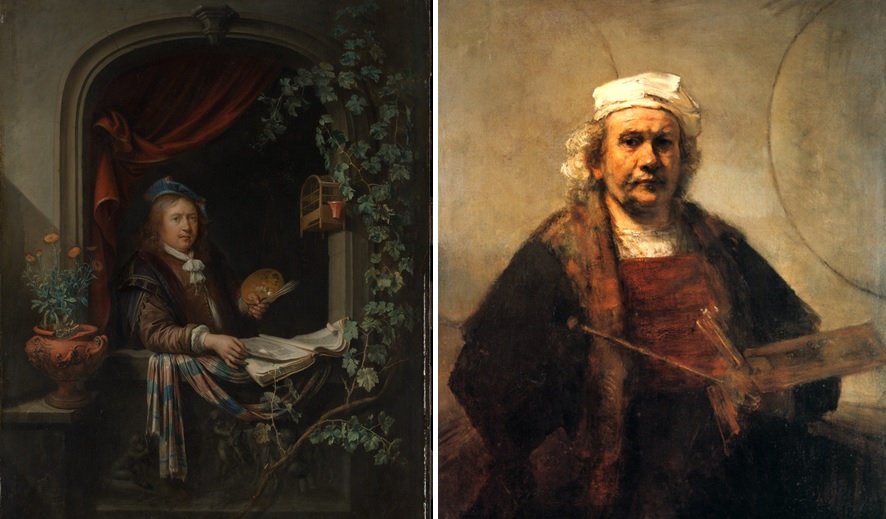 Gerrit Dou was thirteen years old when took lessons from the twenty-two year-old Rembrandt in Leiden in 1628, making him most likely Rembrandt's first pupil. Just like his former master, Dou made several self-portraits during his career, depicting himself in different manners. Here we see him sitting by the window, surrounded by several attributes. Dou clearly presents himself as an artist by holding a palette and brushes in his left hand. The fact that he has painted himself surrounded by the arch of the window is also a sign that he wanted to underscore his artistry, as this was his signature composition. But, Dou also presents himself as a scholar, by placing his right hand on a book, making himself a 'pictor doctus' – a scholar-artist.
In his self-portrait, Rembrandt presents himself clearly as a pure artist. He clearly didn't feel the need to point out his intellectual abilities, which he undoubtedly had when we consider that Rembrandt must have had a decent library in his home. He presents himself in the role he quite possibly deemed the most important: an artist. His palette and brushes seems to merge with his left hand, and the painter's attributes have taken over the foreground of the picture. There are several different theories about the two circles in the background,  the most appealing theory being that it is a sign of artistic mastery; the artist that could draw a perfect circle in a single stroke, would prove that he is a true artist.
What are your thoughts on these two artworks? Do they form a good pair? We would love to hear what you think!