Every Monday, we highlight an artwork that is part of the collection of The Rembrandt House Museum, or currently on view at the museum. Today, we would like to take a closer look at a work from our exhibition Glenn Brown – Rembrandt: After Life: Glenn Brown, Reproduction, 2014, collection of the artist.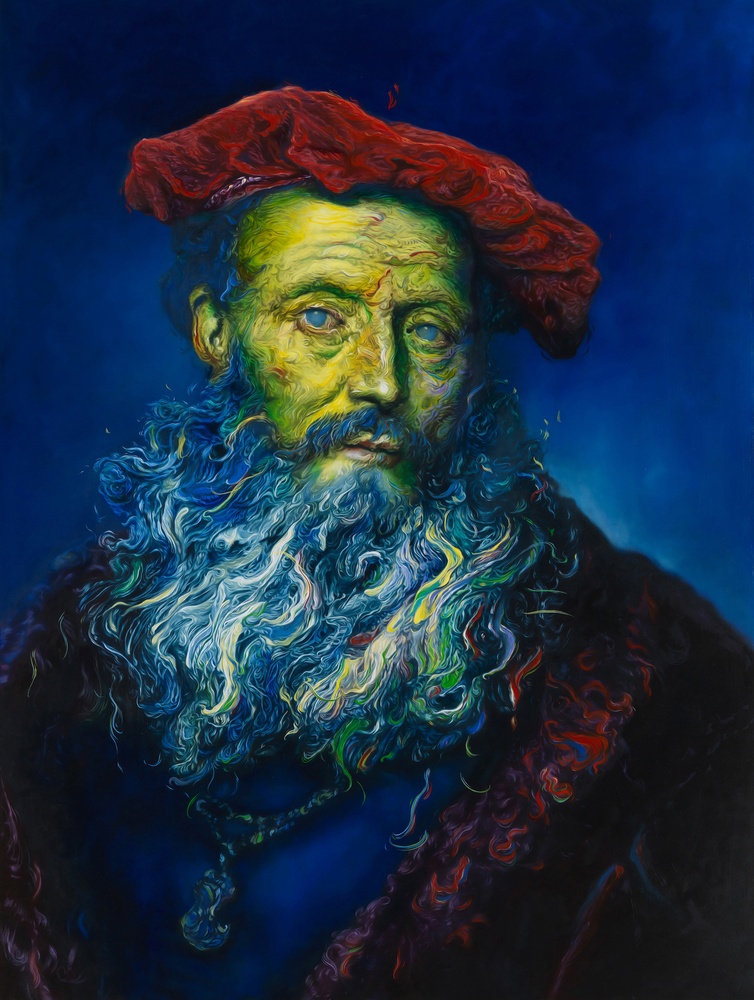 Glenn Brown bases each of his works on one or more by other artists, often Old Masters, with Rembrandt being one of his most important source. This practice used to be quite common, notably in the Byzantine era, and even through the Renaissance and Baroque, when artists continued to quote each other. Sometimes this was for study and learning, and sometimes to improve on their forbears – known as emulation. Modern art, by contrast, has strongly emphasized originality. One reaction against this has been to directly copy, or appropriate, existing works of art. The original is not absorbed as an influence, but openly reproduced from the original and set in a new context for new meaning.
Glenn Brown has used this method of appropriation with works from a diverse array of artists, from the Renaissance, Baroque, Rococo, and Modernist periods, together with quotes from popular culture and even science fiction imagery. Here we see an emulation of an emulation, one could say. The seventeenth-century artist Govert Flinck created a lavish variation on the tronies of old men by his master Rembrandt. Glenn Brown took Flinck's variation and gave this figure an urgent, unsettling presence, primarily through the use of pure colours in stongly contrasting combinations.
In the exhibition Glenn Brown – Rembrandt: After Life The Rembrandt House Museum presents a selection of works in different media: paintings, drawings and prints. Brown's contrarian audacity sticks out, his unique way of inverting the effects and aims of many much-loved works in the Western canon, including Rembrandt. It is with great pride and excitement that we present the results now, in Amsterdam, in Rembrandts home and workplace. One wonders what strands of conversation could be heard in the house had the great old master and this great new master met. The exhibition Glenn Brown – Rembrandt: After Life is on view at The Rembrandt House Museum until April 23rd 2017. More information: https://www.rembrandthuis.nl/en/bezoek/tentoonstellingen/glenn-brown-rembrandt-after-life-2/