This week we would like to share an artwork from our current exhibition Under the Spell of Hercules Segers: Rembrandt and the Moderns – Nono Reinhold, Miroir de lumière (Mirror of Light), 1982. Vernis mou, 260 x 202 mm, property of the artist.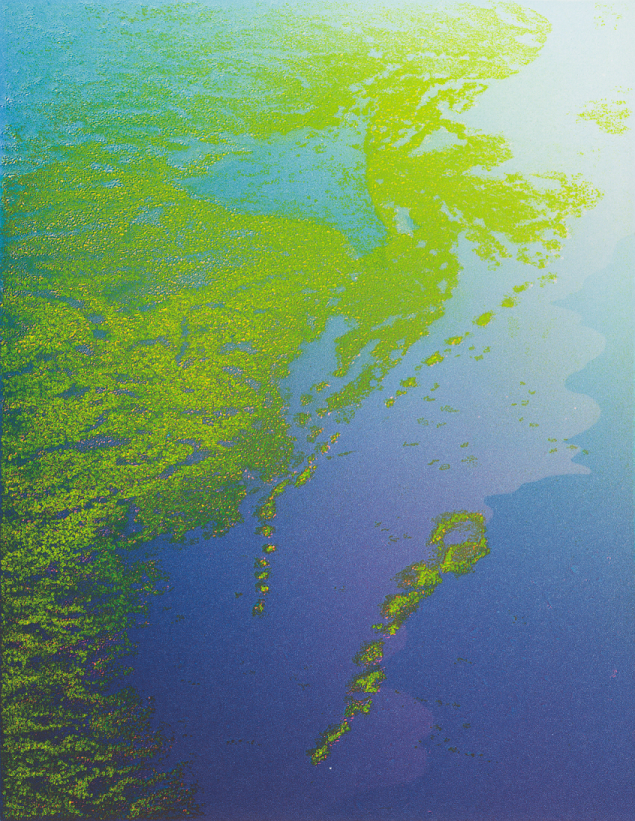 Here we see a striking interpretation of a landscape. On the one hand it's a realistic birds-eye perspective of a landscape, on the other hand it looks like an abstract painting. Interesting about Reinhold's work is that a lot of her etchings have been printed with more than one plate. Each colour has been applied onto paper with a different plate, up to a maximum of three. In her work and especially in the way she handles the material we can recognize the work of Hercules Segers and of modern artist Stanley Hayter.
In 1951, the Haarlem-born artist Nono Reinhold (1929) moved to Paris, where she stayed for some years. She spent the first three months in Nicolas de Staël's workshop. Jacques Houplain was her first teacher of printmaking. She then went on to study with Stanley Hayter in Atelier 17. Reinhold subsequently settled in New York, before returning to the Netherlands in 1963. The principal characteristic of Reinhold's etchings is the use of strong, bright colours. Some have a tangible relief as a result of the printing process.
With the exhibition Under the Spell of Hercules Segers: Rembrandt and the Moderns The Rembrandt House Museum focuses on Segers's influence on Rembrandt and artists in his circle. The exhibition also highlights the role Segers played in the development of modern and contemporary graphic artists, such as Max Ernst, Nicolas de Staël and Robert Zandvliet. The exhibition is on view until January 8th 2017. Click here for more information.