This week we would like to share with you an artwork from our current exhibition Under the Spell of Hercules Segers: Rembrandt and the Moderns – Robert Zandvliet, Untitled, 25-10-1999.
Despite the great difference in scale, Robert Zandvliet's fascination with the use of line and structuring of Segers's landscapes is apparent in is work, particularly his monotypes. After focusing more precisely on the dynamic brushstrokes and different layers, the viewer sees the landscape unfold before their eyes, and hears an echo of Segers's Landscape with Dir Branch, which is also on view in this exhibition.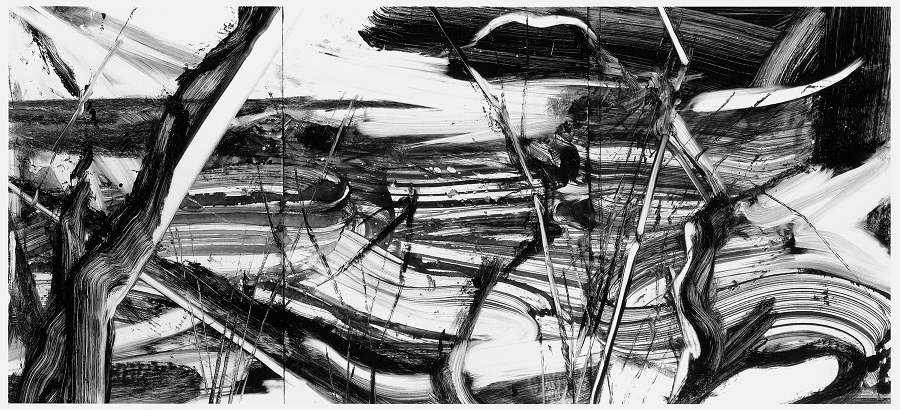 Robert Zandvliet, Untitled, (monotype in the Varick Series, large size horizontal IV), 25-10-1999, monotype, ink on paper, 97.8 x 200.7 cm., property of the artist.
In the nineteen-nineties, Robert Zandvliet (1970) made his name with his paintings in tempera of everyday objects, such as a bar of chocolate, and tranquil images of aircraft windows and the like. He then moved on to subjects between abstraction and figuration, before devoting himself to landscape painting. His landscapes are built up of lively brushstrokes in which Segers's influence can be seen. Zandvliet first saw a work by Segers in the Galleria degli Uffizi in Florence, and recognized something very Dutch in that painting. To Zandvliet Segers was first and foremost an example for structuring a landscape, but Segers's experimental approach also spurred him on to find his own visual idiom.
With the exhibition Under the Spell of Hercules Segers: Rembrandt and the Moderns The Rembrandt House Museum focuses on Segers's influence on Rembrandt and artists in his circle. The exhibition also highlights the role Segers played in the development of modern and contemporary graphic artists, such as Max Ernst, Nicolas de Staël and – as shown above – Robert Zandvliet. The exhibition is on view until January 8th 2017. Click here for more information.