The Night Watch is the earliest painting for which Rembrandt is known to have used a quartz ground. Scientific examination has revealed this layer to contain particles of river clay as well as sand. This ground remained flexible, allowing Rembrandt to roll up the huge canvas in order to move the completed work out through the doorway of his house. The Night Watch is characterized by the great variety in execution and in the layered rendering of the different figures on the canvas. A few of the costumes display brighter colours – red in particular – than those in the rest of the composition.
These features provided the starting point for the translation of the painting into a study in ceramics. The techniques used by Kolk & Kusters generated new production methods. In the ceramics industry it is unusual to work with several layers of colour applied one on top of the other. But that is exactly what the designers did, without losing sight of creating workable production processes.
This study is part of the exhibition RembrandtLAB, currently on view at The Rembrandt House Museum. Kolk & Kusters about their research: "Many colours have disappeared from the contemporary palette, and colours have been made stable and constant, so that they are the same in every production and every edition. As a result, today's colours have become very flat, and we do not work with the material qualities of colours anymore (all colours consist of minerals, which have possibilities and limitations). The modern creative industry can learn much from Rembrandt's legacy. For instance, how to make colours rich again." Read more about RembrandtLAB here.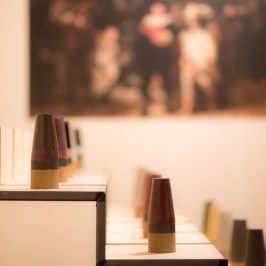 Photo by Gerhard Taatgen Jr.