Rembrandt married Saskia Uylenburgh in 1634. Two years later he made this sheet of studies. It contains five studies of Saskia and top left, a portrait of another, older woman. This manner of working, with fine, carefully drawn lines, is related to the style of Rembrandt's pen and ink drawings in which he made several studies of the same person.
The etching plate for this print still exists. It is a fine example of an etching plate that has remained in perfect condition, despite having been in the possession of various publishers who had no scruples about heavily reworking other Rembrandt plates in otder to produce new editions.
Both the etching and copper plate are part of the exhibition Rembrandt, the etcher. Highlights of the Rembrandt House Museum. The Rembrandt House Museum owns one of the most important collections of Rembrandt prints in the world. Rembrandt produced around three hundred prints in all. A selection of highlights is currently on view in this exhibition.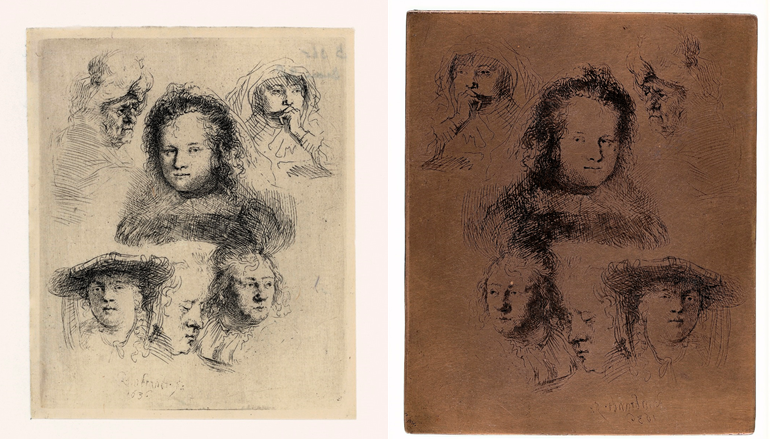 On the left: Rembrandt, Five studies of the head of Saskia, and one of an older woman, 1636. Etching, only state, The Rembrandt House Museum, Amsterdam.
On the right: Rembrandt, Etching plate with 'Five studies of the head of Saskia, and one of an older woman', 1636. Copper, The Rembrandt House Museum, Amsterdam