This painting depicts the story of Atalanta, as told by the Roman poet Ovid. Atalanta is born as the daughter of the king, but is soon abandoned. She is found by hunters and raised in the forest. Atalanta develops great athletic skills and grows up to be a beautiful woman, coveted by many men. She challenges every one of her suitors for a race, saying: 'He who can outrun me, will be granted my hand in marriage. But the losers awaits death.'
No man has won the race yet, when the young Hippomenes accepts the challenge. During their race he drops three gold apples, a clever gift that the goddess Venus had given him. Atalanta can't resist to pick up the shiny apples, and she loses the races. But, all is well that ends well: Atalanta is quite happy to marry Hippomenes.
The painter of this beautiful and colourful painting is Jan Tengnagel (1584-1631). His style was influenced by Pieter Lastman, Rembrandt's teacher in Amsterdam. This influence is especially visible in the way the figures have been placed within the composition of the painting, and their vivid contours.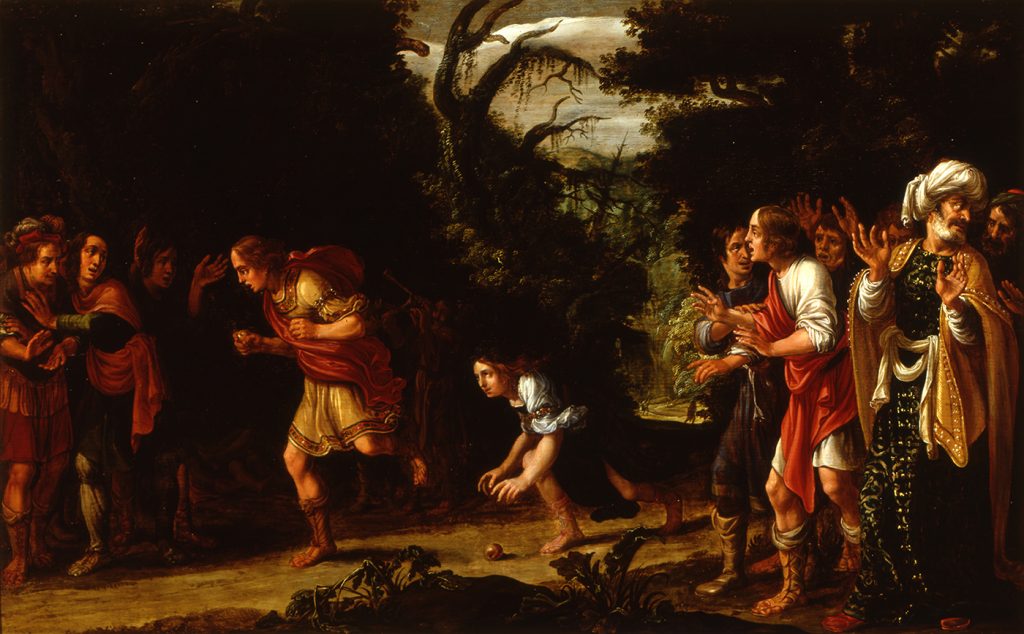 Jan Tengnagel, The Race between Hippomenes and Atalanta, 1610. The Rembrandt House Museum, Amsterdam (on loan from the Amsterdam Museum)