The man in this portrait is Jacob Trip (c. 1576-1661), a wealthy merchant from Dordrecht. Trip is around 85 years old in this portrait, painted in the year of his death by Rembrandt. His physical frailty is clearly captured with light and quick brushstrokes. Some art historians have suggested that this portrait was executed posthumously, after a painted resemblance. Practically speaking, this is certainly possible, since there were many portraits of Trip available. The merchant had been portrayed earlier by Jacob Gerritsz Cuyp, his son Aelbert Cuyp and by the artist Nicolaes Maes. The latter painted no less than eight portraits of Jacob Trip.
A striking element of this painting is Trip's attire. It is clothing usually worn indoors: a loose-hanging robe, a night cap and a simple white scarf instead of an elegant collar. His walking stick also seems more of a necessary aid than a fashionable accessory. Trip's unusual dressed does include an indication of fancy lifestyle; the loose-hanging robe seems to be made of precious silk, imported from Japan.
Rembrandt painted this portrait of Jacob Trip in c. 1661. That same year Rembrandt painted another portrait, the pendant of this painting. Do you know what painting that is? We'll show you next week!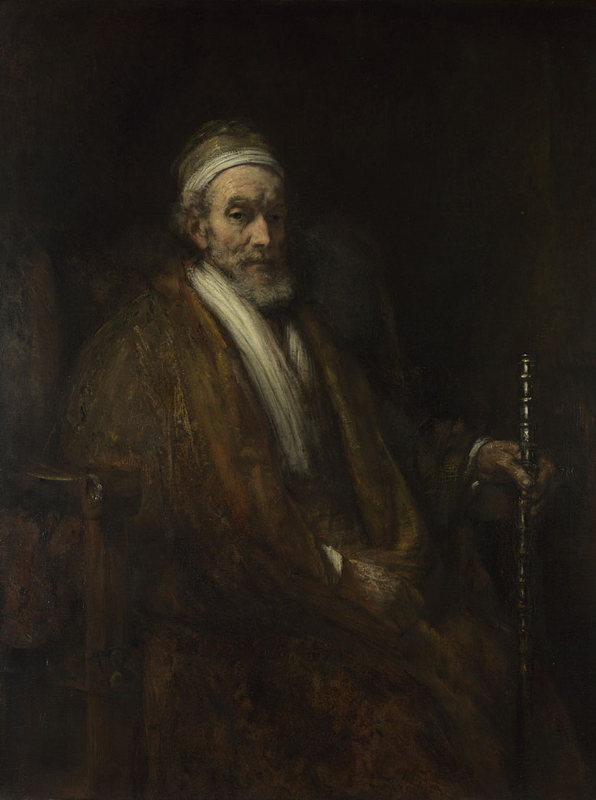 Rembrandt, Portrait of Jacob Trip, c. 1661. The National Gallery, London