For many years, there has been doubt whether or not the painting Girl in a picture frame can be attributed to Rembrandt. After 200 years of being part of the private collection of the Lanckoroński family in Vienna, the painting became part of the collection of the Royal Castle in Warsaw in 1994. This made extensive research of the painting possible, finally. Between 2004 and 2006 art historical research was conducted under the supervision of Rembrandt expert Ernst van de Wetering. Its conclusion: the painting definitely is a real Rembrandt. These findings were presented at The Rembrandt House Museum, in the exhibition Rembrandt, Quest of a Genius, in 2006.
We see a girl wearing a red dress lined with fur, gold necklaces and a decorative belt. She's resting her hands on the low bar of the frame. Of course this is not the actual picture frame, but a painted frame surrounding the whole image. Rembrandt has created a beautiful illusion, also known as trompe l'oeil. The artist has signed and dated the painting in the shadow between the black frame and the girl's right arm.
This painting is part of a "set" of two paintings, although we can't really consider them pendants. Do you know what other painting we're referring to? A little hint: it belongs to the same collection as Girl in a picture frame. We'll show you next week, in the second part of this Fact Friday!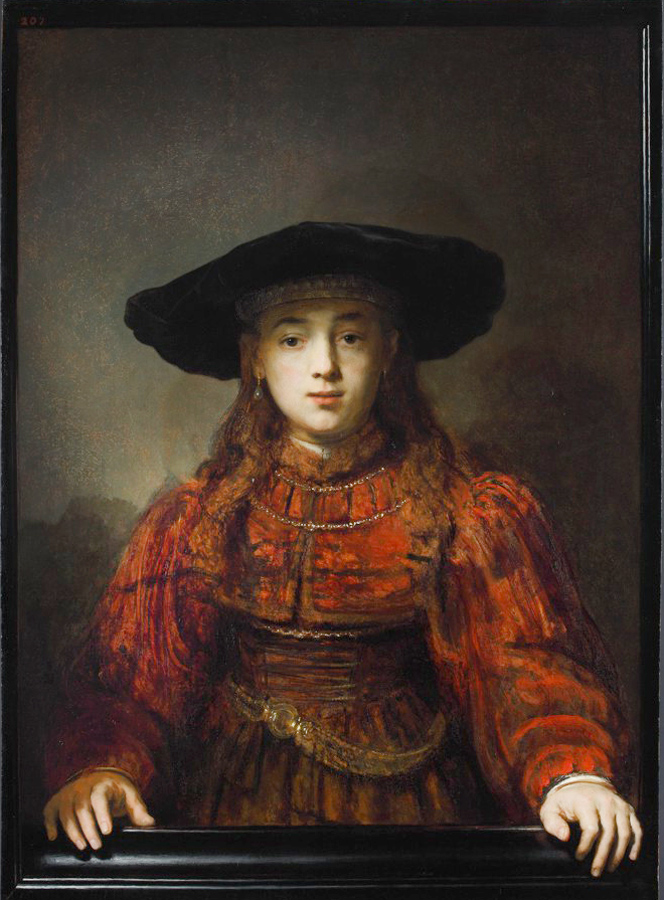 Rembrandt, Girl in a picture frame, 1641. Royal Castle, Warsaw.
[Source: J. Chernichowska, R. Dmowska, A. Nowicka, 'Two paintings by Rembrandt: "Girl in a picture frame" and "Scholar at his writing table" from the collection of the Royal Castle in Warsaw – history, examination and conservation.', 2011]