This morning we showed you a detail from an etching on our social media pages. Did you recognize the etching? It is Rembrandt's Woman with an arrow from 1661 (The Rembrandt House Museum, Amsterdam).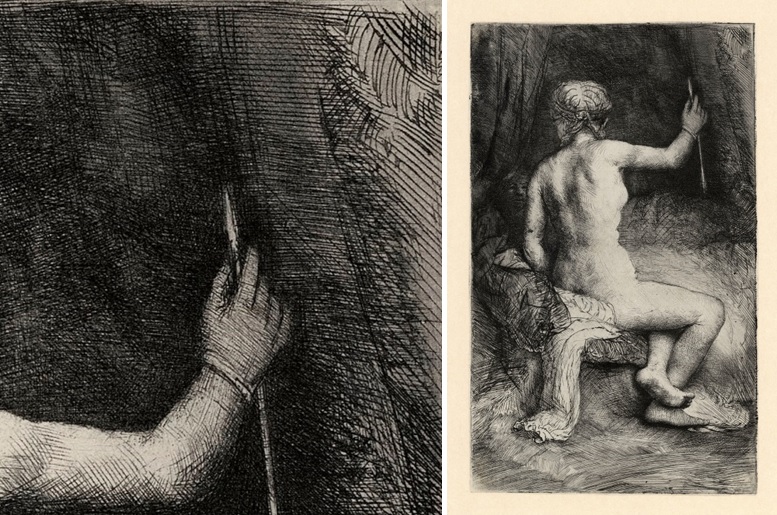 Between 1658 and 1661 Rembrandt made a series of etchings of female nudes. Characteristic for this series is the fact that Rembrandt used all the possibilities of light and dark. It is this, rather than any actual outline, that gives the shapes their volume. Just like in his earlier work, Rembrandt often depicts his models extremely realistically. This extreme realism did not accord with the notion of beauty that was current in his day and it was accordingly not always greeted with enthusiasm by his contemporaries.
In his etching Woman with an arrow we can see a woman with her back turned to us and an arrow in her right hand. To the left, behind the nude woman, we see the face of a young man. The meaning of this scene is obscure. The classical appearance of the woman's hair may indicate a mythological subject and the scene has been interpreted as Venus arming Cupid with the arrow, his attribute. On the other hand she may be mocking him, having succeeded in tricking him out of the arrow. Others believe the two figures to be Anthony and Cleopatra. It has also been suggested that the woman is not holding an arrow at all, but rather keeping the curtains of the bed together. What do you see in this etching?