Something over four hundred years ago, Govert Flinck (1615-1660) was born in Cleves and Ferdinand Bol (1616-1680) was born in Dordrecht – they were contemporaries. The two talented artists moved to Amsterdam around the age of twenty. At first sight, there are countless parallels in their careers. Both had a first teacher outside Amsterdam and both opted to complete their training with Rembrandt. As advanced students, they took part in the production process in the workshop and in so doing mastered Rembrandt's style. After they had set themselves up as artists in their own right, Flinck and Bol still worked in Rembrandt's style for some years, before adopting a different, more classicist approach. Both oeuvres are dominated by history paintings, frequently very large, and elegant portraits of prominent contemporaries.
Aside from similarities, however, there are also unmistakable differences. Govert Flinck and Ferdinand Bol did not study under Rembrandt at the same time, one followed soon after the other. Flinck, like Rembrandt, headed the workshop of the art dealer Hendrick Uylenburgh and only worked under Rembrandt for twelve to eighteen months. Rembrandt started his own workshop in 1635 and Bol joined him in 1636. Bol spent around four years with Rembrandt, so Rembrandt's influence on him was stronger and lasted longer. Soon after Flinck left Rembrandt he emerged as a true virtuoso, who worked in different painting styles, depending on the commission. Bol stuck to what Rembrandt had taught him for longer and did not develop a brighter palette and a smoother style until around 1650. Bol, moreover, was the only one of Rembrandt's pupils to produce a substantial graphic oeuvre, amounting to twenty or so skillfully etched prints.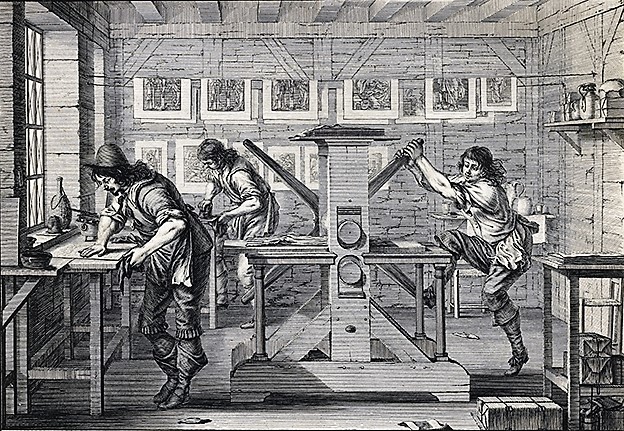 Abraham Bosse, A printer's workshop, 1642
What did they learn in Rembrandt's workshop? Flinck and Bol went to Rembrandt to learn to work in his style. They trained in Rembrandt's use of colour, light and brushwork by making copies of his work. Furthermore, it was important for students to build up a repertoire of images if they were to become good visual storytellers. For this, they could consult work by their predecessors. Rembrandt found examples in his large collection of prints and drawings by artists he admired. His students, though, tended to use Rembrandt's own work, including etched self-portraits with different expressions.
In the seventeenth century, working and learning went hand in hand. Teachers received tuition fees from their students and made money from the sale of what they produced. We know of a note penned by Rembrandt in which he listed the kinds of works he had sold by 'Fardynandus' Bol: a 'standard bearer' and a 'Flora'. These were very probably copies of Rembrandt paintings.
On view from October 13th in The Rembrandt House Museum and the Amsterdam Musuem: the exhibition  Ferdinand Bol and Govert Flinck – Rembrandt's Master Pupils.
More information: https://www.rembrandthuis.nl/en/coming-soon-exhibition-devoted-to-ferdinand-bol-and-govert-flinck/