On view from 1 October 2019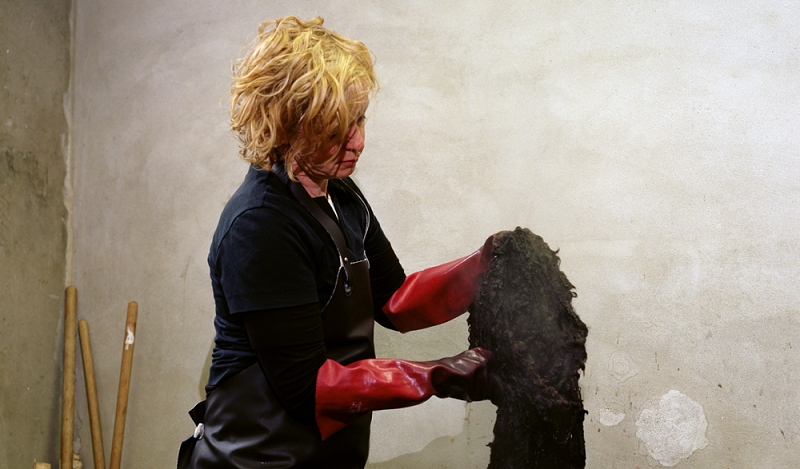 Claudy Jongstra
Allium & Onion, Hennep & Hair, Madder & Nettle
1 October 2019 – 16 February 2020
Modern artist Claudy Jongstra went in search of Rembrandt's black. She followed the old paint recipe with some natural dyes and pigments and used them in a fabric diptych: Allium & Onion, Hemp & Hair, Madder & Nettle. She based her work on three natural local materials: flax, hemp and nettles. The flax plant is the source of both the canvas and the linseed oil that Rembrandt used in his oil paint. This art installation made of felt hangs like a curtain in front of the two windows in Rembrandt's former living room and bedroom in the Rembrandt House Museum.
Jongstra's diptych not only has different shades of black, but also colour accents she embroidered on the felted canvas. She drew her inspiration for these from the colours of Rembrandt's most famous diptych: his pendant portraits of Marten Soolmans and Oopjen Coppit. Jongstra's art installation is a textile and abstract version of the paintings, which can be seen in reproductions in the Rembrandt Laboratory exhibition in the museum's modern wing.
Claudy Jongstra's diptych can be seen in The Rembrandt House Museum until 16 February 2020.

The relationship with Rembrandt's most famous diptych
The great source of inspiration for this work is Rembrandt's celebrated diptych, the 1632 Marriage Portraits of Marten Soolmans and Oopjen Coppit (Rijksmuseum Collection/ Musée du Louvre Collection). Black plays an important role in both of them; Marten wears an expensive black satin costume, while Oopjen is dressed in a black silk summer gown with buttons and a black cap on her head. In the background of the portrait of Oopjen there is a large black curtain.
The recent results of the research into the portraits of Marten and Oopjen can be seen in the museum's modern wing along with Jongstra's art installation. In the Rembrandt Laboratory exhibition you can see what was found under the top layer of paint in Rembrandt's portraits in a full-size reproduction.
Studio Claudy Jongstra
Claudy Jongstra (born 1963) is known worldwide for her monumental artworks of felted wool and silk, dyed with natural pigments, which are usually to be found in public buildings. Her oeuvre also contains smaller artworks, which feature in museums throughout the world and in private and corporate collections. Her work is deeply rooted in the Dutch landscape: her studio is in the Frisian countryside.
In her work different layers of felt and fabrics are further defined by subtle embroidery which gives the artwork a sculptural quality. The layered complexity of the coloured threads is also linked to the bond that Jongstra feels with the connecting and healing powers of weaving, felting and embroidering – an old practice. In this combined work tacit knowledge is handed down from generation to generation, and valuable old crafts are kept alive.
Claudy Jongstra's diptych can be seen in The Rembrandt House Museum, Amsterdam from 1 October 2019 to 16 February 2020.
[Information for the press: for press images click here].