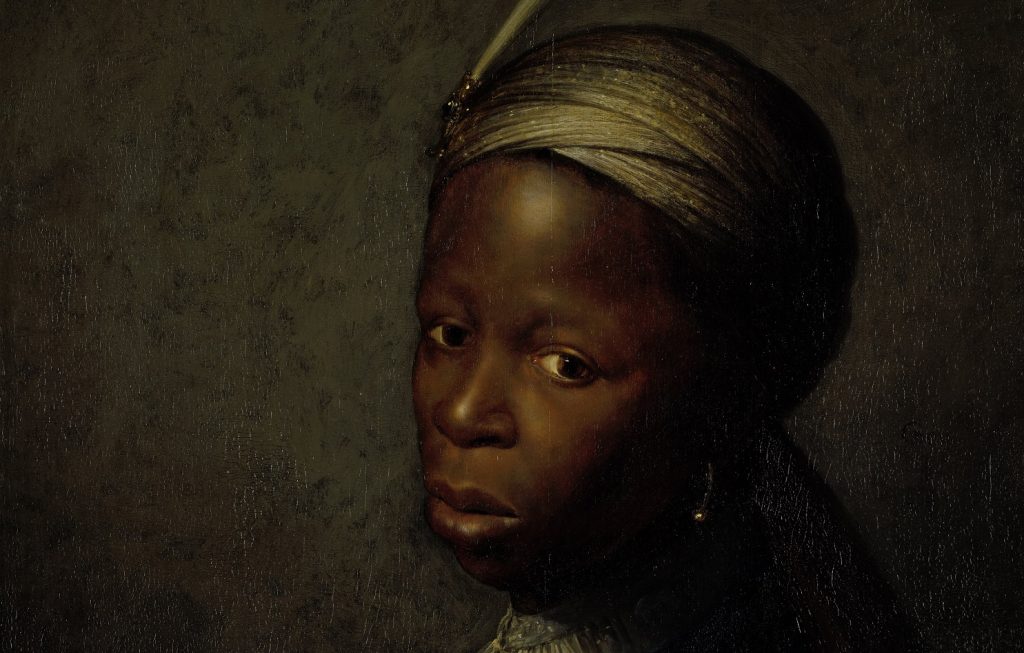 HERE
Black in Rembrandt's Time
6 March to 31 May 2020
There were black people in seventeenth-century Holland, here, in society and in art, too. This fact has long—and undeservedly—been neglected. Rembrandt and many of his contemporaries actually made superb works of art featuring black people. But what is so striking about them? The stereotypes that would later determine the image of black people were yet to predominate. And black people were not just minor figures with subordinate roles, but the central subjects of the works of art.
What were the circumstances in which these unusual works of art were created? And why did the type of images change after around 1660? HERE: Black in Rembrandt's Time showcases artists who wanted to capture the visual world, the impact of the Transatlantic slave trade and a small society of free black people who lived in Amsterdam's Jodenbreestraat.
The exhibition is based on a concept by guest curators Elmer Kolfin and Stephanie Archangel and designed by artists Balai and Brian Elstak. Multi-disciplinary evening programmes will accompany the exhibition.
Hansken. Rembrandt's Elephant
19 June to 27 September 2020
Hansksen was the most famous elephant in the seventeenth century. The only elephant in Europe at that time, she travelled to markets, fairs and courts. When Hansken visited Amsterdam for the last time in 1647 she was able to perform thirty-six tricks. She could fight with a sword, shoot a pistol, carry a pail of water, put on and take off a hat, pick up coins and much, much more. Rembrandt saw her and drew her a number of times—a perfect excuse for The Rembrandt House Museum to bring Hansksen's story to life again in this family exhibition.
Hansksen's story is amazing, but at the same time moving. She had to put up with a great deal during her life; she was forced to make long journeys and perform very frequently. This was compounded by the fact that nobody really knew how to look after an elephant properly. Present-day views surrounding this issue are also highlighted in this exhibition.
The exhibition is based on a concept by Michiel Roscam Abbing (the author of Rembrandt's Elephant) and Anneke Groen. Hansken: Rembrandt's Elephant features drawings and etchings by Rembrandt and his contemporaries, paintings and a digital map on which you can follow Hansksen's route through Europe.
KinderKunstBiënnale X Rembrandt
5 to 25 October 2020
The Rembrandt House Museum will be presenting a series of Rembrandtesque portraits by children during the first Amsterdam KinderKunstBiënnale. The portraits were created as part of the Hats on for Rembrandt art project by De Rode Loper op School. The children made a hat, and in the spirit of Rembrandt, had their portraits taken by the photographer Marije van der Hoeven. The results are cheerful, touching and surprising. The children are proud of themselves and think about who they might have been previously. Workshops will be taking place during the autumn school holidays. Children are also welcome to make an unusual portrait themselves.
Raw
The Aversion to Idealization
6 November 2020 to 8 March 2021
Don't make things more beautiful than they are, don't glamorize them–this is the essence of Rembrandt's work, and that of many contemporary artists, too. They look at their surroundings, people and the human body with the same unfiltered vision. The group exhibition RAW: The Aversion to Idealization showcases work by a number of contemporary artists—well-known names as well as young talent. Although their art is different, they have something important in common: like Rembrandt they are tackling the same themes, problems and experiments—but almost 400 years later. RAW: The Aversion to Idealization is the first in a new series of exhibitions of contemporary art in The Rembrandt House Museum.
Note for the press: for more information visit our press page and download a selection of the press images here.