The Rembrandt House Museum is not only a museum with a rich history, it is also a unique venue in the heart of Amsterdam for exclusive events, dinners, guided tours and receptions. Set out below are the various possibilities the museum has to offer.   
Dine in Rembrandt's Kitchen
Rembrandt's old kitchen is one of the finest spaces in the Rembrandt House and a wonderful setting for an intimate dinner for up to eighteen guests. Experience the seventeenth-century atmosphere and the unique glimpse of Rembrandt's domestic life, as you enjoy an exclusive guided tour and a superb dinner.
For these exclusive dinners we have created, with our preferred catering partners 360 Food Events  and B&E Catering Amsterdam, special three-course menus using seventeenth-century ingredients and methods of preparation. And of course we can also tailor menus to suit you.
Programme
6.30 pm                 | Reception with a glass of champagne
7.00-8.00 pm         | Exclusive guided tour of the museum
8.00-10.00 pm | Three-course dinner including selected wines and coffee/tea
10.00 pm               | At the end of the evening you will receive an impression of an etching made in Rembrandt's printmaking studio
Capacity up to 18 people | Price from 300 euros each (excl. VAT)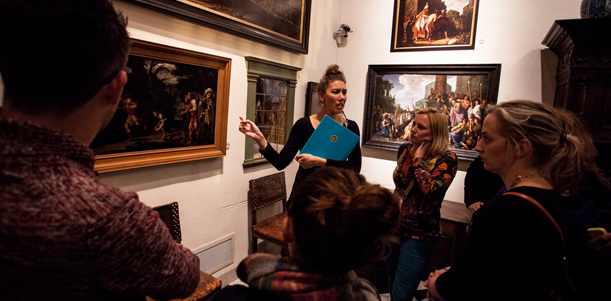 Exclusive Guided Tours
The Rembrandt House Museum opens its doors especially for you and your guests outside regular opening times for an exclusive guided tour. The group has the whole museum at its disposal, and an expert guides you around Rembrandt's former home and studio.
Times 9.00 am – 10.00 am and 6.00 pm – 8.00 pm | Price for groups up to 15 people 750 euros (excl. VAT), including admission and guided tour. Additional people 50 euros extra each (excl. VAT).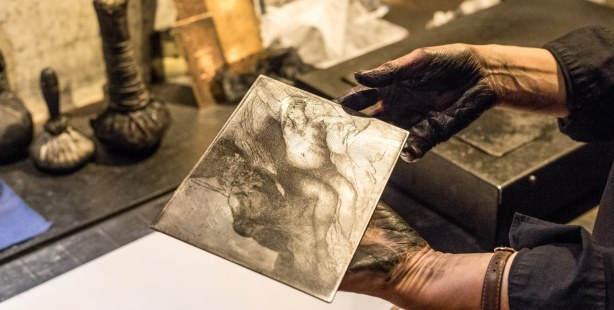 Demonstrations
Find out more about Rembrandt and his work at demonstrations in the museum. This extra activity offers you and your guests a unique opportunity to discover at close quarters the seventeenth-century techniques of this great Dutch master. 
Etching Demonstration
At an etching demonstration you will find out all about the technique of etching and see how an etching is printed. The demonstration is held in Rembrandt's printmaking studio, the room known as the Caemer agter de sijdelcaemer.

Paint-Making Demonstration
The paint-making demonstration shows you how paint was made in Rembrandt's day. In Rembrandt's own studio you will see exactly how it was done in the seventeenth century. Pigments and oil are ground together between a heavy stone (a 'muller') and a grindstone to create paint.
Contact
For more information about the various venue hire options, our facilities and rates, please contact our Marketing & Sales Department. A prior visit to the venue is, of course, possible by appointment only, tel. +31 (0)20-5200400 or by email to marketing@rembrandthuis.nl.