Witnesses are heard concerning the cupboard of Hendrickje Stoffels, 16-03-1670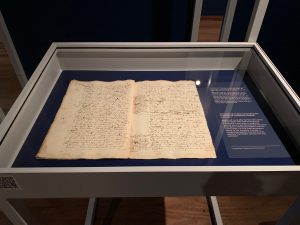 [left page]
Today, the 16th of March anno 1670 appeared
before me Hendrik Rosa, notary
public… Jannetje Vermeulen,
widow of Cornelis Cornelisz Bang,
around 52 years old,
living on the Rosegracht, and Rebecca
Willems, widow of Paulus Hilbrandts,
living in the house of death of
Rembrandt van Rijn op de Rosegracht,
en on the request of
Abraham Fransz and Christiaen Dusart,
guardians over the minor child of Hendrickje
Stoffels, named Cornelia van Rijn, in
truth procreated with the abovementioned Rembrandt van Rijn, "…declared,
that she the first named deponent
Jannetje Vermeulen alone, as she
remembers and knows well,
that Hendrickje Stoffels, the late mother of
the abovementioned Cornelia van Rijn, in the year 1656 (being
governess at Rembrandt van Rijn's, and
having authority over the deponent)
at the house of him Rembrandt van Rijn,
had her cabinet or column closet standing
in the entrance hall, which was so filed
with linen, woolens, silverwork and other goods
that aforesaid cabinet with the goods in it
was evaluated by the appraisers at
six hundred guilders. And because at that time
the possessions of Rembrandt van Rijn were
in insolvency and receivership, said Hendrickje
Stoffels, as she had declared under oath,
that the said cabinet with its goods were her own
possession, with Rembrandt not having possession
[right page]
of any share of it, and that otherwise the executor,
who was placed in charge of the estate, would have seized
and disposed of the said cabinet and everything that was found in it,
as part of Rembrandts goods.
Deponent gave as a basis for her knowledge,
that she as neighbour across the way was very familiar
with said Hendrickje Stoffels and
had on many occasions seen said cabinet,
and together with said Hendrickje Stoffels looked and went into said cabinet and
saw and handled various of Hendrickje's silver spoons in the cabinet and well as having seen and handled various gold rings, with some other silverwork, and that the cabinet was well stocked with woolens and linens. And that she deponent was also told several times by said Hendrickje Stoffels, that she had previously had to swear an oath for this reason and that it was her cabinet and possession.
The deponent Rebecca
alone declares, that said Rembrandt van Rijn told her
deponent several times and heard from his mouth,
that he said, that he again
had had to take money from Cornelia's money and
promised to return it again
as soon as he would take delivery of several pieces,
that were kept in security, from his own deceased father,
and that he Rembrandt for a time maintained the household
with the money that he took from Cornelia's money.
And it was known to her the deponent
that she Cornelia van Rijn had a sack of
silver ducatons in the cabinet,
and that she the deponent had also seen,
that Magdalena van Loo, widow of
Titus van Rijn, the day after
her father had died,
took to herself several pieces of gold savings, totaling around
a hundred seventy guilders, out of the sack of silver ducatons, that was in the cabinet
of Cornelia van Rijn,
and she Van Loo said, that the gold (that she got out of the sack of silver ducatons) was half hers,
and in so doing returned the sack of silver ducatons to the cabinet. Both of
the abovementioned deponents together heard Rembrandt van Rijn himself
say and admit, that the cabinet and everything in it, was to go to Cornelia van Rijn
alone, and the day after Rembrandt van Rijn died, and the notary Steeman
was busy sealing the cabinet and the rooms, they the deponents were
present and heard and saw, that the same Notary, refering to the cabinet of
the said Cornelia van Rijn, that stood in the best room of the house of the deceased, in order
to seal it, the said Magdalena van Loo said to the Notary, "No, not that cabinet, that belongs to
the child Cornelia van Rijn", and immediately gave the key to the same cabinet to the appellant Christiaen Dusart and said, Please, could you keep the key to the cabinet for the child, and the same appellant. Executed etc.