The portraits Rembrandt painted of his friends are often much more informal than the ones he made for official clients. Jan Six I's is not just the most famous, it is the largest and most ambitious. But then, Six was not an ordinary friend; he was a connoisseur of art with a very deep purse. Rembrandt's famous etched portrait of his friend Jan Six is currently on view in our exhibition Rembrandt's Social Network.
Of all Rembrandt's social contacts, it is his friendship with Jan Six that most captures the imagination. The fortune amassed by his parents in cloth and silk dying allowed Six to undertake study in letters and law in Leiden in 1634, to prepare for a life in the arts and politics, followed by a Grand Tour. He cultivated friendships with scholars and writers, wrote poems plays, and built up an ambitious collection of Dutch and Italian paintings. It included a celebrated early masterpiece by Rembrandt, St. John the Baptist Preaching. In 1647 he commissioned a portrait etching by Rembrandt, who responded with spectacular effects of light in a lavish and refined composition. He had found a connoisseur who shared his vision of art. Their friendship inspired his dazzling performance in the portrait he painted of Six in 1654, with its decisive strokes of impasto paint, reaching a crescendo in the cuffs and hands. However, Six's life and relationship with Rembrandt changed after the death of his mother that same year.
In 1655 he married the daughter of Nicolaes Tulp, who was serving as burgomaster, and who arranged a political post for him as city commissioner of marriage affairs. Rembrandt's common-law-relationship with Hendrickje Stoffels became public in 1654 and this issue likely forced Six to reduce open contact. The artist's subsequent insolvency did not help either. But the portrait etching commission from Arnold Tholinx, Six's brother-in-law, must reflect continued contact and support between Rembrandt and the connoisseur and friend who understood him well.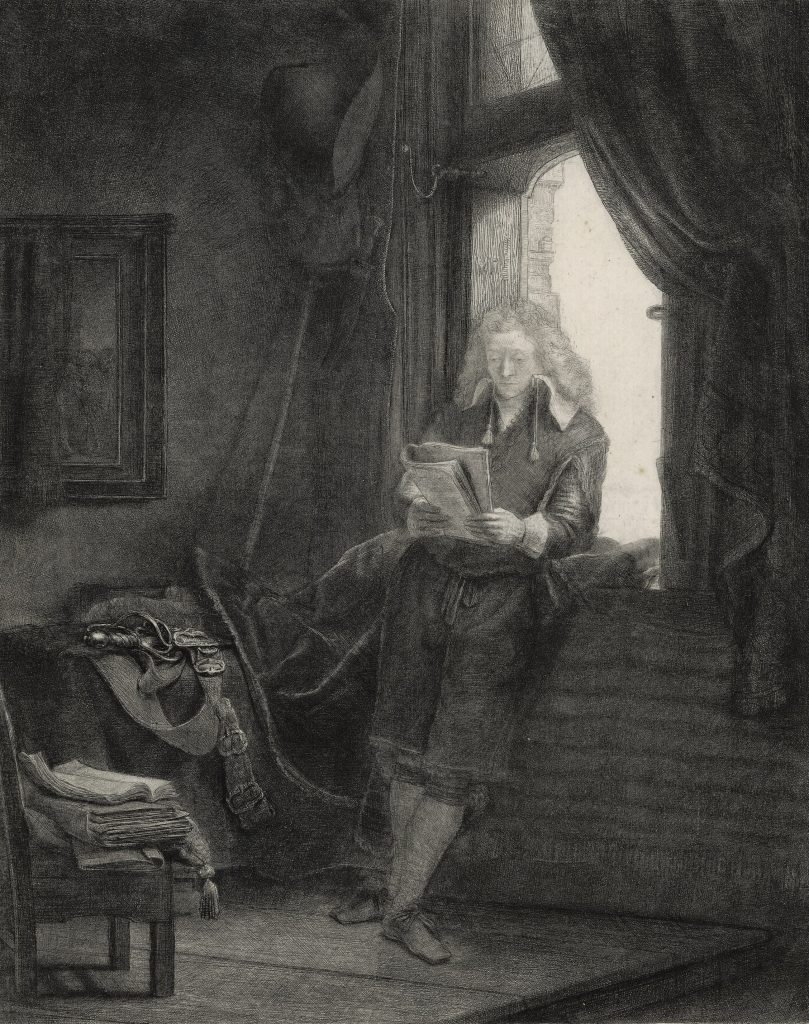 Rembrandt, Portrait of Jan Six, 1647 Etching, drypoint and burin on paper, state IV(4), 246 x 191 mm Amsterdam, The Rembrandt House Museum.