Inspired by: Rembrandt's self-portraits
Rembrandt has always fascinated us—not just in this Rembrandt Year, 350 years after his death, but down through the centuries. Rembrandt's etchings have motivated artists in all kinds of ways. Our exhibition Inspired by Rembrandt – on view from 7 June until 1 September 2019–  explores his impact on their art.
This time we have dipped into our own collection, for the museum is not just his former home and workshop. For more than a hundred years it has also been collecting art on paper—the collection now contains more than 4,000 prints. And not just Rembrandts, but art by his followers—from his own time and contemporary artists. The exhibition is composed of eight stimulating themes; on our blog we'll highlight each of the them individually.
This time: 'Self'.
Rembrandt painted and etched numerous self-portraits. No other artist ever made so many. He liked to experiment with different expressions and interesting contrasts of light and dark. And which model was always available? At the time his etched self-portraits were collectors' objects. They were proof of Rembrandt's skill as an artist and a continuing link to him. Horst Janssen etched a whole series of references to Rembrandt's self-portraits. Aat Veldhoen made a moving self-portrait looking in the mirror.
Hollandismus
'Rembrandt is my God', an eighteenth-century art dealer once cried. At that time no other artist was copied as often as Rembrandt—mainly by German artists. In the eighteenth century, copying was perfectly normal. It was the way artists demonstrated that they had absorbed their teachers' instruction, although they had to give their work a personal twist. George Friedrich Schmidt belonged to this 'Hollandismus' movement. His self-portrait is recognizably inspired by a Rembrandt etching.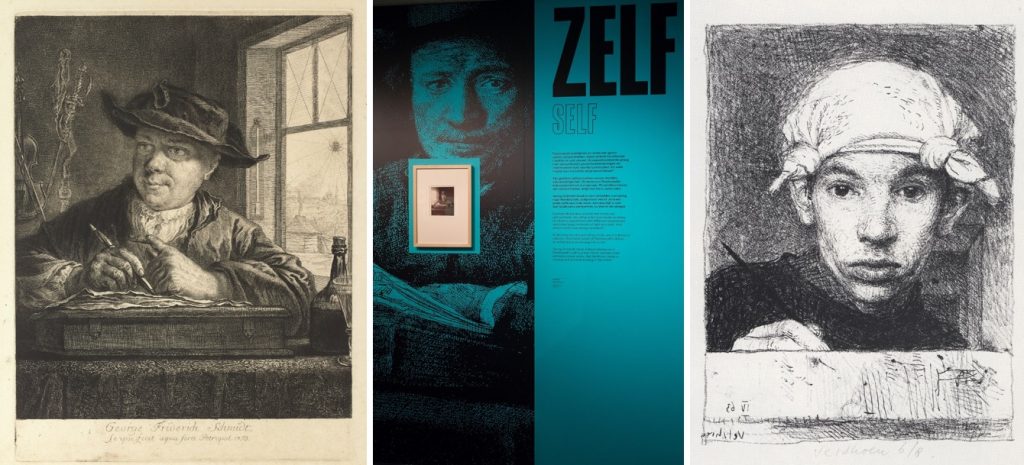 George Friedrich Schmidt, Self-Portrait at the Window, 1758, The Rembrandt House Museum, Amsterdam. | Installation view of the exhibition | Aat Veldhoen, Self-Portrait with Handkerchief on the Head, 1963, The Rembrandt House Museum, Amsterdam.