Rembrandt has always fascinated us—not just in this Rembrandt Year, 350 years after his death, but down through the centuries. Rembrandt's etchings have motivated artists in all kinds of ways. Our exhibition Inspired by Rembrandt – on view from 7 June until 1 September 2019–  explores his impact on their art.
This time we have dipped into our own collection, for the museum is not just his former home and workshop. For more than a hundred years it has also been collecting art on paper—the collection now contains more than 4,000 prints. And not just Rembrandts, but art by his followers—from his own time and contemporary artists. The exhibition is composed of eight stimulating themes; on our blog we'll highlight each of the them individually.
This time: 'Raw'.
Unlike almost all his contemporaries, Rembrandt showed his nude models as they were. Not idealised, without any graceful poses or taut skin. Aat Veldhoen also worked honestly. His models are real and frankly depicted, like Rembrandt's. Rembrandt's nudes probably do not shock viewers today. But his etching of a woman urinating? It still raises many an eyebrow. Marlene Dumas made a lithograph inspired by this print.
The Naked Truth
Mrs Vlek's body reveals her advanced age. Nonetheless the greengrocer's wife poses nude for her neighbour. She waits patiently until he is ready. Her natural pose is disarming. Aat Veldhoen recorded 'everything and everyone'. His style is typical of the Amsterdam of the 1960s: direct and high-spirited. Rembrandt's unusual nude portraits were Veldhoen's great source of inspiration.
Woman Urinating
Marlene Dumas was inspired by a famous Rembrandt etching, A Woman Passing Water. For years Dumas had owned a postcard of this revealing print. She discovered something new and wrote a column: 'And then … I saw that she is doing something else as well as urinating. The diagonal white jet attracts so much attention that you don't immediately look further back, between her legs. Where another smell comes from.' The lithograph dates from before this discovery. Here Dumas only shows the 'white jet'.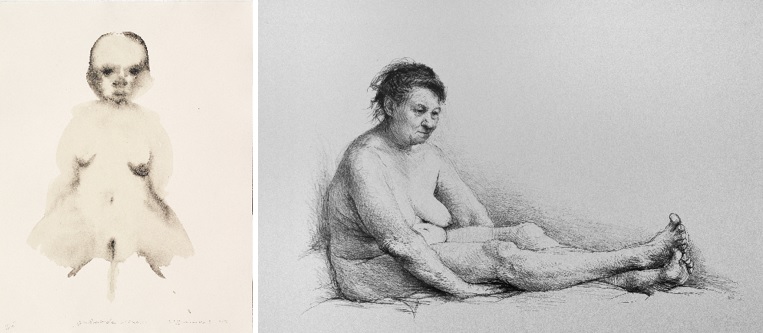 Marlene Dumas, Woman Urinating, 1996, The Rembrandt House Museum, Amsterdam. | Aat Veldhoen, Mrs Vlek, Nude, 1964, The Rembrandt House Museum, Amsterdam.