Rembrandt has always fascinated us—not just in this Rembrandt Year, 350 years after his death, but down through the centuries. Rembrandt's etchings have motivated artists in all kinds of ways. Our exhibition Inspired by Rembrandt – on view from 7 June until 1 September 2019–  explores his impact on their art.
This time we have dipped into our own collection, for the museum is not just his former home and workshop. For more than a hundred years it has also been collecting art on paper—the collection now contains more than 4,000 prints. And not just Rembrandts, but art by his followers—from his own time and contemporary artists. The exhibition is composed of eight stimulating themes; on our blog we'll highlight each of the them individually.
This time: 'Emptiness'.
Rembrandt's technique was often extremely bold. Sometimes he left whole areas of the sheet blank. Empty spaces work extremely well alongside dark, detailed passages, as if they transmit light. Many artists tried to imitate this effect, particularly in the nineteenth century, among them English artist Francis Seymour Haden and Italian artist Livio Ceschin.
Snow
A snowy landscape with gnarled hawthorn bushes in the foreground. Immediately above them a line of trees on the horizon, giving the composition a sense of immense depth. Charles Donker made the sky light grey; he left the fields empty, effectively suggesting the blanket of white snow. Donker has been making etchings for more than fifty years. He has a recognizable fabulous technique, with a subtle and detailed interplay of lines.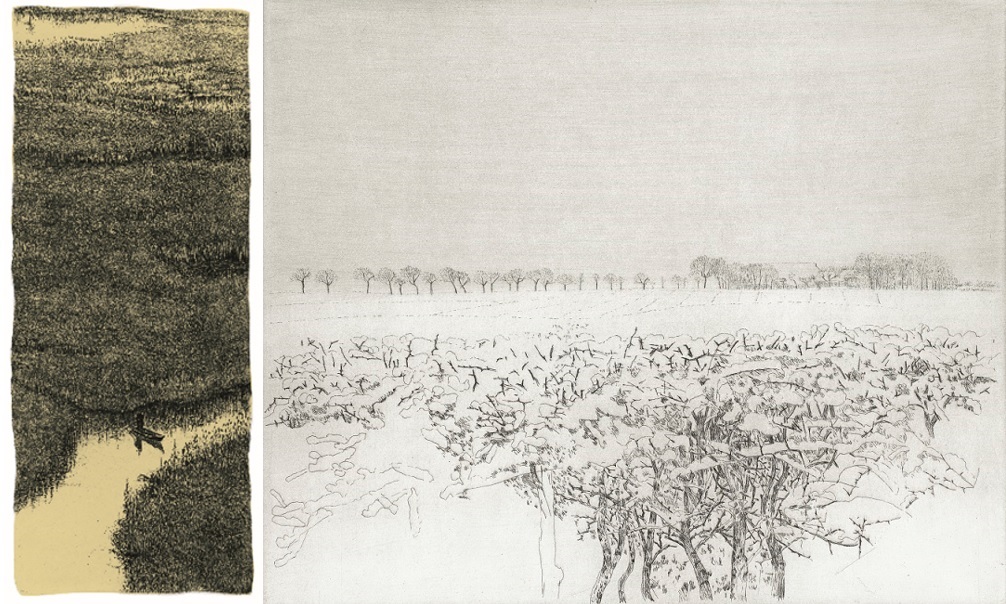 Left: Livio Ceschin, La Palude, 2001, The Rembrandt House Museum, Amsterdam | Right: Charles Donker, Hawthorn Bushes in the Snow in Groningen, c. 1985, The Rembrandt House Museum, Amsterdam.