Rembrandt has always fascinated us—not just in this Rembrandt Year, 350 years after his death, but down through the centuries. Rembrandt's etchings have motivated artists in all kinds of ways. Our exhibition Inspired by Rembrandt – on view from 7 June until 1 September 2019–  explores his impact on their art.
This time we have dipped into our own collection, for the museum is not just his former home and workshop. For more than a hundred years it has also been collecting art on paper—the collection now contains more than 4,000 prints. And not just Rembrandts, but art by his followers—from his own time and contemporary artists. The exhibition is composed of eight stimulating themes; on our blog we'll highlight each of the them individually.
This time: 'Black'.
Rembrandt made considerable use of dark tones in his etchings. That was not easy. He could only make darkness with black lines. Rembrandt liked to use the darkness as a means of expression. It increased the tension in his scenes. Many of Rembrandt's contemporaries also aspired to reproduce darkness—Ferdinand Bol for one. Even today, black still occupies etchers like the French contemporary artist Nicolas Poignon.
All-Absorbing Black
A dark room; the light comes through the window. It takes a moment for the eyes to adjust. Then an intimate scene emerges. Mary suckles the newborn Christ. This etching is a technical tour de force. Two-thirds of it is almost all-absorbing black. Ferdinand Bol was inspired by Rembrandt's St Jerome in his Study—an etching with a phenomenal chiaroscuro effect. Bol often found inspiration in Rembrandt's works. At the same time he tried to surpass his former teacher.
Searching in the Shadow
Castiglione made a series of six tronies with oriental headwear. The shabbily dressed man is the most striking, completely enveloped in shadow. Castiglione was inspired by a remarkable self-portrait by Rembrandt, in which the artist's head is lit from behind. His face is mostly in the dark— an unusual approach for portraits. Castiglione, however, completely covered this face with shadow. Daring, but is it entirely successful?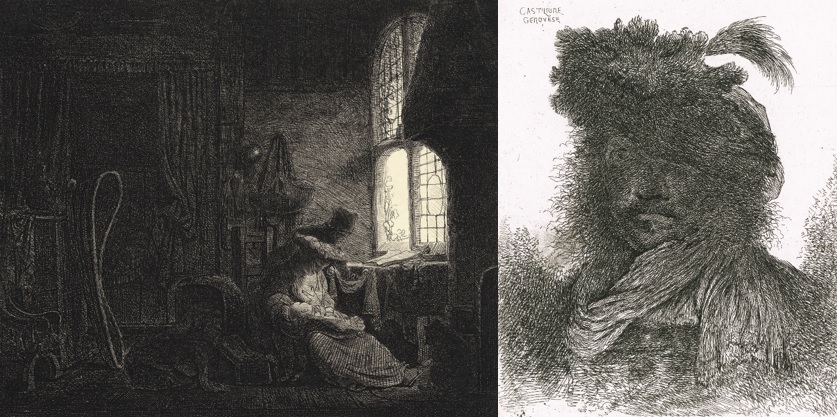 Ferdinand Bol, The Holy Family in a Living Room, 1643, The Rembrandt House Museum, Amsterdam. | Giovanni Benedetto Castiglione, Head of a Man in a Plumed Fur Cap Full Face, c. 1648, The Rembrandt House Museum, Amsterdam.